As streetcar ridership and funding dwindle, alderman warns of long-term fiscal burden
Milwaukee is trapped on a streetcar going nowhere.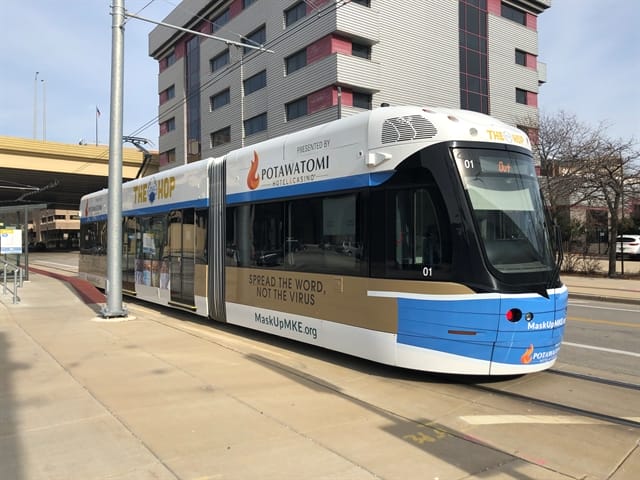 Ridership on The Hop, as the two-year-old, $128 million trolley system is called, has plummeted. Government funding and private sponsorships are drying up. The city soon will be drawing from existing revenue sources to cover the millions of dollars in operating losses.
A vocal alderman is trying to warn about the long-term financial burdens, while the response from most city officials is to press on and maybe, when the political climate is more receptive, expand the streetcar system. Because, as Commissioner of Public Works Jeff Polenske pointed out in a recent memo to the Common Council, The Hop is simply too expensive to stop.
Aldermen Mark Borkowski and Scott Spiker, vice chair of the council's Finance and Personnel Committee, tried to stop it, or at least suspend service until COVID-19 abates, ridership increases and new sponsorship can be secured. At an Oct. 29 meeting, four committee members voted to keep the largely empty cars running.
Borkowski, one of the most outspoken opponents of The Hop from its inception, is warning Milwaukeeans that the streetcar is going to be a "financial anvil around the city of Milwaukee's neck" for the 23-year length of the deal that the city made when it grabbed all that "free" federal money.
"There's nothing free about that money," Borkowski told the Badger Institute in an interview Monday. "What we're saying is 'Milwaukee, you're on the hook for this for the next 23 years,' and the city is saying there are no alternatives. It makes me want to pull out my hair."
Polenske and other city streetcar boosters have blamed the pandemic for the loss of ridership, hoping that people will hop aboard again when they believe it's safe. When that will be is unknown. And even if riders do return, the city is resolute that it will not charge for rides, at least through 2021.
"They know ridership, poor as it already is, will drop 20 to 40 percent because people don't want to pay a dollar or whatever for something they've been getting for free," Borkowski says. "I'm not advocating installing cash boxes on cars, but it should at least be considered an alternative."
The initial capital costs of The Hop were funded by a $69 million grant from the Federal Highway Administration Congestion Mitigation and Air Quality Improvement (CMAQ) Program and $59 million in property tax revenue diverted from three tax incremental financing districts.
Operating costs are an additional expense.
Heading into 2021, the city is short $3.17 million of an anticipated $4.5 million to operate The Hop for the year, according to Polenske's memo. Another $390,000 is supposed to come from sponsorships that haven't yet been locked in. The only funding The Hop can count on is $833,000, part of a 10-year sponsorship deal with Potawatomi Hotel & Casino and a $110,000 federal grant for the year.
The shortfall for The Hop comes amid a very tight city budget that includes cutting 150 police officer positions and closing Fire Station 17 on South 13th Street.
When Polenske was asked to provide estimated cost savings for suspending service for a year until public health conditions presumably returned to normal, it became clear, he said, that the city couldn't afford to stop.
Suspending service very likely would violate the agreement with the Federal Transit Administration that supplied $66.9 million of the $128 million spent to build and equip The Hop. It is Polenske's opinion that the FTA would want a "vast majority" of that money back.
It is also likely the city would have to return a $492,250 operating grant through the Coronavirus Aid, Relief and Economic Security (CARES) Act, which specified that the streetcar operate during the pandemic.
On the other side of the ledger, Polenske estimated the city could save between $155,000 and $550,000 by suspending service. His estimates include no layoffs of city employees and $150,000 for the cost of restarting the system.
Polenske's report warns of the loss of an "essential transportation service," the possible reduction of staff by Transdev, the company that operates The Hop, and the potential impact on downtown development.
The Badger Institute contacted Polenske's Department of Public Works, but he did not respond to an interview request.
In the 24 months that The Hop has made its way back and forth on the 2.1-mile route from the Milwaukee Intermodal Station at North 5th Street and West St. Paul Avenue, east and north to Burns Commons at North Franklin Place, the city has lavished transit money on its free riders.
Considering operating costs alone, each ride on The Hop thus far has cost $3.48. Including all capital costs dramatically increases that per-ride expense.
If ridership for the 12 highest ridership months of those two years stays at that level for a total of 25 years — and in the unlikely event the system incurs no maintenance, repair or equipment replacement costs — the 20.6 million rides will cost $240.5 million, or nearly $11.70 per ride.
The Hop had 18,479 riders in October, down from 62,010 in the same month a year ago and the all-time high of 103,625 in July 2019, according to city data.
The Hop began 2020 with a daily ridership of 1,627, hit an all-time low of 243 rides a day in April and recovered to 596 rides a day in October. With five cars running an average of 18 hours a day, this essential transportation service carried an average of 33.1 passengers an hour, or 6.6 passengers per car per hour last month.
While rejecting the proposal to suspend streetcar service, Polenske recently reminded Urban Milwaukee that The Hop became essential by rerouting two Milwaukee County Transit System bus routes already serving the streetcar district to avoid duplicating service.
Another entanglement key to the future of The Hop could end up costing Milwaukee County taxpayers another $6.7 million. In spite of its current fiscal woes, Mayor Tom Barrett, champion of The Hop, is keen to extend service to the east and to the west of its north-south arteries, Milwaukee Street and Broadway.
One of those proposals already penciled in on maps is a loop connecting parallel tracks that now dead end on East Michigan and East Clybourn streets. At that loop is the 2.2-acre site of a little-used and now-razed Downtown Transit Center that had been built decades ago with another federal grant.
The Milwaukee County Board in 2014 sold the property at the bargain-basement price of $500,000 to Barrett Lo Visionary Development LLC. The agreement carried with it a requirement that the developer include a transit concourse as part of its proposal to build The Couture, the tallest apartment tower — 44 stories — in Wisconsin.
Six years later, Barrett Lo is asking for another extension to secure a federal loan. Some city officials, including Borkowski, are skeptical the project will ever be launched. If it doesn't, not only will county taxpayers owe the FTA $6.7 million, city taxpayers will shoulder the repayment of a $14.2 million FTA grant that was used to build the unfinished East Michigan and East Clybourn streetcar extension.
As COVID-19 cases soar in Milwaukee and around the state, there will be little talk from Barrett and other streetcar backers about any expansion of The Hop. But with an incoming U.S. president with a longstanding affection for mass transit, Borkowski says, the promise of new and "free" money from the federal government is irresistible.
"Maybe they're hoping for some kind of big bailout," Borkowski says. "That might temporarily take the issue off the radar screen. But what about five, 10 years down the road? That's why I'm asking the questions now."
Mark Lisheron is managing editor of Diggings, the Badger Institute's magazine.