Accepting out-of-state credentials should continue after the crisis ends
Just two weeks after Gov. Tony Evers declared a public health emergency in Wisconsin, he eased state licensing regulations so that qualified health care workers could quickly join the workforce. It was a smart and necessary move toward protecting public health.
Now that this unwieldy process has been streamlined for the benefit of both health care professionals and patients, policymakers should consider making this reciprocity arrangement permanent.
As a rule, state-regulated professional licensing makes it more difficult for people to pursue occupations, stifles competition and drives up costs for consumers. Licensing supporters claim these costs are offset by benefits to public health and safety. But, as the sudden rush to loosen licensing requirements suggests, some regulations actually undermine public health and safety.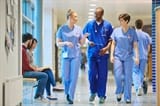 Take the example of out-of-state medical licenses, for instance. Until Evers' emergency order, health care providers from other states could not practice in Wisconsin unless they secured a license from a Wisconsin licensing board — an often lengthy and expensive process. The decks were cleared for out-of-state license holders, however, when Wisconsin hospitals faced projections of up to 125,000 patients.
Wisconsin was not alone in implementing this policy change. Many states realized the urgent need for health care professionals to practice — and practice quickly — in their health care facilities and responded by accepting medical professionals licensed elsewhere.
Some state leaders called for licensed professionals to travel to their states to help in the fight against COVID-19. News outlets across the country hailed those who answered the call. Many brave doctors and nurses, including some from Wisconsin, did so willingly.
None of this would have been possible if states hadn't accepted out-of-state medical licenses when this crisis began. While some of these arrangements are temporary, 18 states and Washington, D.C., have passed the Uniform Emergency Volunteer Health Practitioners Act, which allows out-of-state medical professionals to work in these states if another emergency is declared. Wisconsin should do the same.
An even better approach would be to make these reforms permanent. Arizona, Pennsylvania, New Jersey and Montana all have passed universal recognition laws, which allow qualified medical professionals — and all other licensed workers from another state — to more readily obtain a license. Just this week, Missouri also passed a licensure recognition bill. It's expected to be signed in August.
Arizona already is reaping the benefits of this change. An analysis by the Goldwater Institute found that the state used this expedited process to approve 751 out-of-state licenses for social workers, hair stylists, contractors and many other professions in the year following the law's adoption. This makes it easier and more attractive for licensed professionals to move to and work in a state.
Even without a public health emergency, occupational licensing is a barrier to interstate migration. Dr. Morris Kleiner, one of the country's leading researchers on occupational licensing, found that interstate migration is 36% lower for individuals who have to take state-specific licensing exams compared with those who do not.
Obtaining an occupational license under any condition should not inhibit qualified workers from coming to Wisconsin. Since the shortage of health professionals will likely continue after the pandemic ends, state policymakers should add Wisconsin to the growing list of states that have adopted universal licensure recognition. This reform will help ensure that our state is equipped with qualified professionals of all kinds who can help revive our economy.
Julie Grace is a Badger Institute policy analyst. Permission to reprint is granted as long as the author and Badger Institute are properly cited.