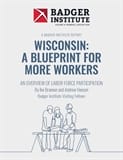 In response to a tight state labor market, we offer strategies for increasing labor force participation. Authors Ike Brannon and Andrew Hanson find that increasing the participation rate by just 1 percentage point would increase gross state product by a whopping $667 annually per resident.
---
Executive Summary
Wisconsin has a labor force participation rate (LFPR) of 69 percent, well above the national LFPR of 62.9 percent but substantially below its state peak of 74.5 percent in 1997. Wisconsin's LFPR places it second among Midwestern states, only lower than Minnesota, and substantially higher than Michigan (61.4), Ohio (62.9), Indiana (64), and Illinois (64.3). Still, summary statistics indicate substantial slack in the Wisconsin labor market, even though some pundits suggest the state may be nearing a labor shortage.
Migration is a strength for Wisconsin relative to comparison states. Wisconsin has attracted a net inflow of migrants from other states in most years over the last decade, which only Indiana and Iowa can also report. There is a strong flow of migration from Illinois to Wisconsin, with Wisconsin netting about 18,000 residents from Illinois annually.
The payoff to increasing the LFPR, or tightening some slack in the labor market, would be large. We estimate that a 1 percentage-point increase in the LFPR would result in a Gross State Product increase of $667 per state resident. These gains would occur in addition to the primary gains expected by individuals from being employed.
The LFPR for Wisconsin women is substantially lower than for men, as there is a steady 10 per- centage-point gender gap. Currently, both Latinos and African-Americans have a higher LFPR than white residents in Wisconsin, although these groups have higher levels of volatility in the LFPR going back in time. There is also a high degree of variability in the LFPR geographically around the state, with northern counties showing an appreciably smaller LFPR than counties around major metro areas and in the southern part of the state.
The Wisconsin economy appears to be white-hot at the moment, and its record-low unemployment rate of 2.8 percent (tied for fifth lowest in the country) has led many employers — and other observers — to declare that there is a shortage of available workers in the state and that we must do more to encourage in-migration if we want the state's economy to continue apace.