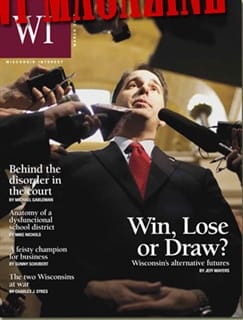 The age of uncertainty
What if?

Let's be honest. Nobody knows what lies ahead, except that 2012 will be the biggest, most expensive and consequential political year in Wisconsin history.
Our cover story is an encore of sorts. Back in 2000, we asked WisPolitics.com founder Jeff Mayers to examine the alternative scenarios of that year's elections, and it became one of the most talked about stories of the year. In retrospect, the stakes of that election appear almost quaint compared with the potential for political Armageddon we now face: the recall of a sitting governor; the potential for not one, but two flips in control of the state Senate, an open U.S. Senate seat, and a presidential election.

Adding to the drama are layers of uncertainty ranging from the identity of the candidates, the outcome of a John Doe investigation, and even the timing of the elections themselves. As Mayers notes, "The most predictable thing is the unpredictability of the what-if scenarios and the political times we're in."
Meanwhile, the narrowly balanced Wisconsin State Supreme Court remains at the center of controversy. In our last issue, we featured an interview with Justice David Prosser. In this issue, embattled Justice Michael Gableman weighs in with a critique of the divisions on the court, adapted from remarks he delivered at the annual dinner of the Wisconsin Policy Research Institute.

I'm delighted to offer an excerpt from my latest book, A Nation of Moochers, dealing with the ongoing division of the Two Americas — the public and private sectors — and the struggle right here in Wisconsin.
— Charles J. Sykes
Picturesque Bayfield has it all: dreadful student performance, community infighting, a powerful teachers' union, outlandish spending. What can be done? By Mike Nichols
WMC's Kurt Bauer keeps the focus on politics, job growth. By Sunny Schubert
A Supreme Court justice speaks frankly of Wisconsin's tarnished judiciary and points critically at Chief Justice Abrahamson. By Michael Gableman
As the Wisconsin protests show, public unions remain a powerful barrier to innovation as they defend their own perks and privileges. By Charles J. Sykes
Alfie Kohn's startling message on schools may be hurting Wisconsin's poorest students. By Michael Petrilli
To refloat the state budget and to save education, he had to break the power of the unions.
by Richard Esenberg
Citing family, too many pols duck electoral duty. By Christian Schneider
Oddsmakers lay out the scenarios for a wild and crazy campaign year. By Jeff Mayers
Dispatches: By Charles J. Sykes