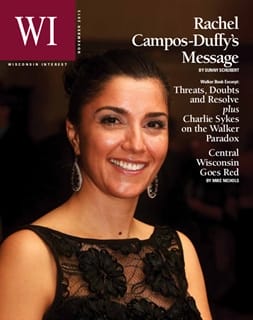 Heartland conservatism
If there were any winners in the government shutdown, it may have been GOP governors, including Wisconsin's Scott Walker, who avoided being implicated in the U.S. Capitol's dysfunction. The governors have also been quick to contrast their records of actual accomplishment and reform with the ongoing gridlock at the federal level.
That is certainly one of the themes of Gov. Walker's new book, Unintimidated: A Governor's Story and a Nation's Challenge, which is excerpted in this edition of Wisconsin Interest. Walker tells the story of the fight for Act 10 but also pivots to the lessons of that fight for the rest of the country. He draws sharp contrasts with other leading national GOP figures, including Mitt Romney, who, Walker argues, utterly misunderstood the lesson of the Wisconsin reforms.
As Walker gears up for re-election and a higher profile on the national stage, the book also provides a glimpse at some of the paradoxes of the man who still seems something of a mystery to friends and foes alike. In "Who is Scott Walker, really?" I describe him as a hard-edged conservative who talks about being a "champion to the vulnerable," as well as a master communicator who sometimes fails to make his case.
Also, Mike Nichols, the new WPRI president, examines an interesting shift in state politics: the transformation of central and northern Wisconsin from a reliable blue stronghold to the center of the state's rightward resurgence.
And our cover story features one of Wisconsin's most provocative young conservatives. Former reality TV star Rachel Campos-Duffy has emerged on both the state and national stages as a dynamic voice for Hispanic conservatives as well as a goad to conservatives who fear popular culture. And she's yet more evidence of that conservative surge in heartland Wisconsin.
— Charles J. Sykes
Long a champion of labor activism, the School of Workers is trying to recast its efforts at a time of declining union relevance
by Christian Schneider
In an excerpt from his new book, Gov. Walker details his struggle to break the union stranglehold on Wisconsin government
by Scott Walker with Marc Thiessen
Markets have worked marvelously for providing necessities like food and shelter. Why not for health care?
by Richard Esenberg
Forget the caricatures. Conservatives are the new face of central Wisconsin.
by Mike Nichols
Fouled up beyond all recognition
by Charlie Sykes
He's a bit of a mystery even to friends
by Charlie Sykes
WPRI celebrates success stories like Aaron and Ildeliza
by Mike Nichols
A faltering state economy is a product of our faltering school system
by Eric A. Hanushek and Paul E. Peterson
When Rachel Campos-Duffy failed to land a spot on 'The View', she realized she had more important work
by Sunny Schubert