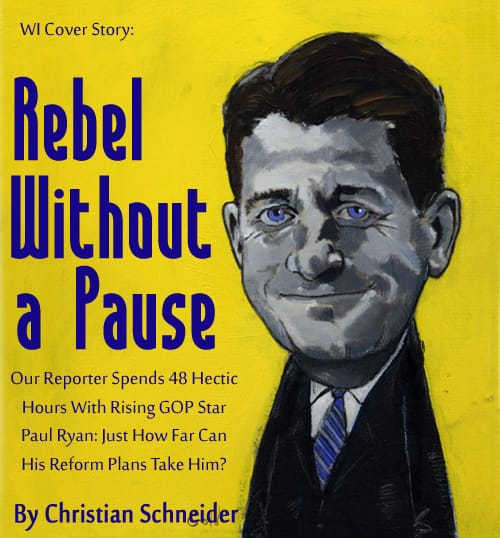 Wisconsin Congressman Paul Ryan is a verbal machine gun. Silence is the only thing he attacks with more ferocity than government-run health care. But when the topic turns to him, he hesitates.
"Being recognized in public isn't something I ever really wanted," Ryan says to me as he takes a sip from his Singha beer. We're at Washington D.C.'s Talay Thai restaurant, which Ryan can see from his Capitol office window. "It's really weird to have someone write about your life – it just seems so boring to me," he says as he picks at his plate of drunken noodles.
"I'm not trying to sell myself as a star," he says. I note that we could wallpaper the Capitol with the portraits of representatives whose names will never cross the lips of another human being. Ryan says he can only handle 10% of the 50-to-60 press inquiries he receives each day. So why is he getting so much attention?
"I think there's a vacuum of leadership," he says. "The Bush-Cheney generation of leaders is gone, and people are hungry for the next generation. They're hungry for what I call conviction politicians – people who believe in something, stand for it, and are able to articulate it," he adds.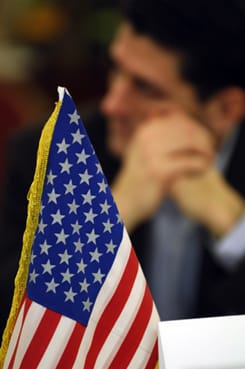 Ryan has become the ultimate political oxymoron – a Republican national media darling. To conservatives, this is akin to seeing Sasquatch roller skating down the street smoking a pipe. It simply doesn't happen.
And yet there is Paul Ryan, on a CNBC panel out-nerding all the high-paid TV financial analysts. And there is Paul Ryan on the Sunday network talk shows explaining how America is in the midst of a slow-motion federal entitlement catastrophe. And there is Paul Ryan dismantling the health care bill at President Obama's sham "summit," while the president glares at him as if Ryan just told the Obama kids there's no tooth fairy.
Ryan is a throwback; he could easily have been a conservative politician in the era before cable news. He has risen to national stardom by taking the path least traveled by modern politicians: He knows a lot of stuff.
Few members of Congress have attained Ryan's mind-boggling velocity. Elected to Congress in 1998 at the tender age of 28, he is on everyone's watch list. Fortune has anointed Ryan as President Obama's foremost adversary. Conservative patriarch George Will has Ryan all but penciled in as the GOP vice presidential nominee in 2012. America's Cougar-in-Chief, Sarah Palin, listed Ryan as her favorite presidential candidate in 2012. The London Daily Telegraph ranked Ryan as America's ninth most influential conservative, ahead of Mitt Romney, George W. Bush and Supreme Court Chief Justice John Roberts.
In fact, rarely does Wisconsin's fiscal dreamboat give an interview these days when he's not asked if he's running for president in 2012; he steadfastly maintains that he will not. But why are people so suddenly so excited by a congressman from Janesville, Wisconsin? In other words…
What's so damn special about Paul Ryan?
At dinner, I mention to Ryan that he has essentially become a talisman for Republicans: On the campaign trail, uttering the name "Paul Ryan," immediately brands you as a serious thinker. Candidates like Senate hopeful Marco Rubio of Florida play up the connection.
"It's not about me, or my name, it's about the ideas that I'm pushing," Ryan protests.
"What I say is what I do, and it's backed up with the numbers. I feel like it's a race against time to change the trajectory of the country.
He explains: "If we don't turn this thing around really fast, we're going to be a big welfare state. We will lose the American Idea in a nanosecond relative to history if we don't step up fast and get the American people to help us take this thing back."
After dinner, we walk back to Ryan's office to begin a "telephone town hall" with constituents in Rock and Walworth counties. Basically, Ryan stares at a computer that randomly auto-dials numbers and fields any questions the responders have. People can either ask him something or listen to others grill the congressman.
At 8:07 pm, with the Longworth House Office Building virtually empty, he sits down at his desk and slides on his headset. "Good evening, this is Congressman Paul Ryan," he greets callers, instructing them to hold on the line if they have a question. I wonder if I would even have a question ready if my congresswoman called me. Apparently plenty of people do.
Ryan rolls through calls, one by one, speaking at lightning speed. It's almost as if he's invented a way of breathing while speaking, to eliminate wasteful pauses. All the callers are polite. The final one, who identifies himself as a union worker, urges Ryan to run for president. Ryan answers with his pat answer: "My head isn't big enough and my kids are too small." (Ryan and wife Janna have three children – Liza, 8; Charlie, 6; and Sam, 5.)
When Ryan finishes, the computer says 5,895 constituents have participated. Many callers ask him about his pet issues. Several mention their concern about the national debt. One asks about the looming specter of inflation. It seems far-fetched that these issues are of concern to regular people, unless those regular people have the Prime Minister of the Congressional Nerd Brigade as their representative.

On the day Paul Davis Ryan was born in 1970, President Richard Nixon unveiled his record-setting $200.8 billion federal budget proposal for the upcoming year – a budget that included a large increase in Social Security payments.
Ryan was raised as a fifth-generation Janesville resident. His father practiced law in the same building as future U.S. Senator Russ Feingold's father. To differentiate Young Paul from Paul Sr., Ryan was nicknamed "P.D." People often mistook this moniker for "Petey," which caused Paul to recoil.
One day as a 16 year old, Ryan came upon the lifeless body of his father. Paul Ryan, Sr. had died of a heart attack at age 55, leaving the Janesville Craig High School 10th grader, his three older brothers and sisters and his mother alone. It was Paul who told the family of his father's death.
With his father's passing, young Paul collected Social Security benefits until age 18, which he put away for college. To make ends meet, Paul's mother returned to school to study interior design. His siblings were off at college. Ryan remembers this difficult time bringing him and his mother closer.
Within months, Paul's maternal grandmother moved into the house. She suffered from Alzheimer's, and it often fell on young Paul to care for her, including brushing and braiding her hair. Ryan credits his father's death and the care of his grandmother as giving him first-hand experience as to how social service programs work.
Ryan excelled at school and was voted class president his junior year. He also served as Craig's school board representative. He ran track and played soccer, but wasn't good enough to make the Craig basketball team, so he played Catholic league hoops.
Upon graduation, he headed to Oxford, Ohio, to attend Miami University. (Twenty three years later, he would return to give the commencement speech.) His junior year, Ryan took an internship with Wisconsin Sen. Bob Kasten's foreign affairs advisor. Ryan says he spent more time opening mail than working on the study of Soviet containment, but it got his foot in the door when a real internship with Kasten's small-business committee opened up over the summer.
Ryan returned to classes in the fall for his senior year. Two weeks in, he got a call from Cesar Conda, Kasten's staff director. Conda confided that the committee's staff economist was leaving the following May. Would Ryan take the job after he graduated for one-third of the salary?
Ryan wasn't sure…until Betty Ryan gave him a tongue-lashing. She feared her son was destined to become a ski bum. The Kasten post led Ryan to a job with two of the GOP smartest thinkers, Jack Kemp and Bill Bennett, at Empower America, then as Senator Sam Brownback's legislative director.
Ryan cites his time with Kemp and Bennett as the formative years that shaped his political outlook. However, he was homesick most of the time. He wanted to get back home, and he wanted to hunt more.
In 1998, Ryan's hometown representative, Mark Neumann, was gearing up to challenge Sen. Russ Feingold. He approached Ryan about running for his congressional seat. Ryan wasn't sure. At 27, even he thought he was too young. For advice, he turned to Bennett, who urged him to take the plunge. "I wanted to see if my running for Congress passed the laugh test," Ryan remembers.
At 9 on Wednesday morning, Ryan comes bounding into his office like a Labrador. He's wearing his ever-present iPod earbuds, which never leave his head during the five minutes he's here. A warning to reporters: If Ryan doesn't know you well, don't ask what he's listening to – he'll tell you with a straight face, John Tesh.
Highly disciplined, Ryan was up at the crack of dawn performing a grueling fitness routine that requires 200 push-ups. Then, he joined a congressional Bible study group that meets on Wednesday mornings.
At 9:30, Ryan is off to a Fiscal Commission working group that is addressing discretionary spending. He has volunteered to serve on President Obama's newly formed commission to manage government spending and debt, and today is the first meeting.
Back in the Ryan office, his staff fields phone calls and attends to constituents who visit unexpectedly. Tom and Janice of New Berlin drop in, and ask to see "the next president." Since Ryan is still at his meeting, they are given tickets to a Capitol tour and merrily go on their way.
Earlier in the day, I had showed Ryan's staff a copy of their boss' birth announcement that I had found in the Janesville Gazette. They tell me that they gave Ryan a copy, and that he was impressed. "And that was before he even had a press secretary," one of his staffers cracked.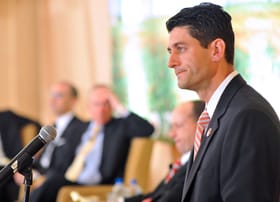 Ryan returns at 11:30 and heads into his office to make phone calls before his Ways and Means Committee meeting at noon. At 11:36, he bolts from his office and hands me a sheet of paper. It's a breaking-news report from Politico.com that liberal Wisconsin Congressman David Obey has decided to retire.
Obey was first elected to Congress in April 1969 – nine months before Paul Ryan was born. But facing an energetic campaign from Ashland County district attorney and former "Real World" star Sean Duffy, the irascible Obey has decided to call it quits. Later, Ryan would tell me that he heard a rumor two weeks earlier about Obey retiring, but dismissed it as nonsense.
Ryan's press team huddled briefly to discuss what their boss should say regarding Obey's retirement. Regardless of political party affiliation, Wisconsin's congressional delegation is duty-bound to say something about Obey's interminable tenure in the House. I suggest they issue a simple one-line statement: "Dave Obey has a beard." I am ignored.
I duck into the Obey press conference to hear him declare that his district ready for a new representative "who won't use an actor's ability to hide the fact that he is willing to gut and privatize Social Security and Medicare and abandon working people to the arbitrary power of America's corporate and economic elite."
Clearly, an unsubtle shot at both Sean Duffy and Paul Ryan.
Eleven days after his 28th birthday, Paul Ryan announced he was running for Congress in Wisconsin's 1st District. He began as a heavy underdog to Democrat Lydia Spottswood, who had narrowly lost to Neumann two years before. But Ryan cruised to victory, winning 57.2% of the vote. It would be the last time anyone got that close to Ryan–he won his next five elections averaging almost two-thirds of the vote.
Thinking back on his first election, Ryan believes Wisconsin voters prefer young politicians. "You just can't come across as an arrogant young know-it-all," he says. He tells me that back in those days he made a conscious effort to be overly lugubrious during speeches and debates, to counteract his youthful looks.
Ryan can turn on the humor behind the scenes. An ex-staffer told me of a gift exchange Ryan conducts with cantankerous Wisconsin Congressman Jim Sensenbrenner, who is considered only humorous when compared to an amputation. One year, Sensenbrenner bought Ryan a reindeer that defecated candy – Ryan returned the favor with a pair of nose hair trimmers packed in a Tiffany's box. Sensenbrenner then purchased Ryan some men's hair coloring gel. And on and on it went.
In early 2000, Ryan announced he was engaged to Washington attorney Janna Little, whom he had been dating for a little more than a year. The engagement notice in the local newspaper identified Ryan as a Congressman, but also pointed out that he was "an avid hunter and fisherman who does his own skinning and butchering and makes his own Polish sausage and bratwurst."
Ryan began to garner national attention in 2003, during the debate over President Bush's proposal to expand prescription drug benefits to seniors through Medicare. Ryan is proud of the free market programs he inserted into the final bill (Medicare Advantage, Health Saving Accounts), and believes those are the "seeds" to a future overhaul of federal entitlement programs.
When Ryan gave a well-received speech to the 2004 Republican Convention in New York, the "P" word began popping up. Milwaukee Journal Sentinel reporter Katherine Skiba compared Ryan, then 34, favorably to John F. Kennedy. When asked about Ryan in 2004, Bill Bennett, said, "I keep telling him, 'Run for president, run for Senate. Start the plan.'" (Ryan maintains Bennett was joking.)
In 2006, Ryan got another boost when Republicans were hammered at the polls, losing both the U.S. Senate and House. A testy Ryan believed the Republican brand was damaged because of the "bad apples" in his party. "We don't need a feather duster; we need a fire hose," he said about purging the party of those unwilling to advance the Republican Party's core ideals.
Arguing for change, Ryan campaigned among his fellow Republicans to be named the ranking member of the House Budget Committee. He won, beating out a dozen members with more seniority. "If we were going to just keep promoting the next person in line, then what's the point?" he said.
After his promotion, he began codifying his thinking in a policy manifesto called the Roadmap for America's Future, saying it took nearly a year and a half to get all the numbers right. His plan boldly calls for reforming the income tax code and would reconfigure two of the sacrosanct programs in American politics–Social Security and Medicare.
It was this plan that President Obama waved over his head on Ryan's 40th birthday, at a House Republican Conference retreat in January. Obama said that he had read Ryan's plan and called it "a serious proposal."
However, Ryan is certain Obama shone the spotlight on his plan only as "a straw man that he could then knock down." He said he fully expects Democrats to use the Roadmap as a "demagogic weapon" during the 2010 campaign season.
Ryan's most dramatic tête-à-tête with Obama came at the famous "Blair House" health care summit, where both Republican and Democratic members of Congress convened around a table before a national television audience to debate Obama's proposed health plan. With Obama presiding, Democrats attempted to minimize the differences between the two parties, trying to leave the impression that agreement was close.
By the time Ryan was scheduled to speak, he remembers he had gotten very upset with the Democrats' attempts to portray the two sides as nearly identical. "They kept rattling off all these incorrect numbers and bogus stuff," Ryan says. "I think we knew the bill a lot better than they did themselves."
So when cameras turned to Ryan, he began systematically dismantling the Democrats' rosy cost estimates. He pointed out that much of the cost was hidden, as it raised taxes for ten years to pay for six years' worth of spending. He exposed the fact that the $371 billion "doc fix" (a plan to reimburse doctors more through Medicare) had been separated from the bill and considered as standalone legislation to keep the price tag down. "Hiding spending does not reduce spending," he said.
As Ryan spoke, the cameras would occasionally make their way back to President Obama, who was glaring icily at Ryan.
"I wanted to throw a match on this thing," Ryan remembers thinking.
There are plenty of reasons to suspect that Ryan's future may not be as bright as his boosters think. For one, Ryan is essentially Patient Zero when it comes to entitlement reform. No one really knows how a national audience would treat his bold proposals.
Ryan's critics have been hammering at a provision of his Roadmap that would fundamentally alter Medicare by injecting market forces into the program. Ryan would provide individuals under the age of 55 with a voucher worth $11,000 per year when fully phased in. The voucher would then be indexed to inflation and be increased for those with lower incomes.
White House budget director Peter Orszag, while acknowledging Ryan's plan would address the nation's long-term fiscal problem, argues that health care costs will rise faster than the value of the voucher. Saying Ryan's plan only saves money by "shifting a lot of the risk and expected cost onto individuals and their families," Orszag believes too many policymakers—Republicans as well as Democrats–will find that solution objectionable.
Ryan calls this the most "fair and accurate" criticism of his plan, but says that it's impossible to keep funding health care expenditures at the current rate of increase. He says the Obama plan deals with the problem by rationing care. "My plan gives individuals control to put market pressure on providers to compete," he says.
Unrestrained health care spending, he warns, will "kill our economy – it crashes the system." So the choice, he says, is either "the Obama method of rationing care down, or doing a…consumer-directed system."
Given how suspicious seniors are to any changes in Medicare and Social Security, this is a politically risky idea for Ryan to advance. We already know how rank-and-file Republicans react to Ryan's plan – and it's not entirely positive.
When President Obama made an issue of the Roadmap, Republican House Minority Leader John Boehner emerged from his tanning bed long enough to deny he had ever heard of this "Paul Ryan" fellow.
Furthermore, so far the Roadmap only has 12 House co-sponsors – all from below the Mason-Dixon line, save for Rep. Cynthia Lummis from Wyoming. No Senate companion bill has been offered. It is clear that most Republicans believe that to explain Paul Ryan's plan, you actually have to be Paul Ryan.
Ryan has also caught flak from the right on some high-profile votes. Ryan voted "yes" on such toxic bills as the bank and auto bailouts. He defends these votes by saying they prevented an economic collapse, which in turn would have prompted even more heavy-handed government regulation.
Whatever Ryan's problems are with Republicans, he more than makes up for in crossover appeal with Democrats. In many ways, Ryan's tenure in the House has mirrored that of his mentor, Jack Kemp.
Kemp represented the blue-collar southtown area near Buffalo; Ryan's district includes heavily unionized Janesville, Racine and Kenosha. In 2008, while Obama was pulling 66% of the vote in Kenosha, 67% in Janesville, and 70% in Racine, Ryan received a solid 52%, 59%, and 45%, respectively, in those same cities.
The conventional wisdom holds that a member of the House doesn't have enough stature to make a serious run at the presidency. But the conventional wisdom also held that voters would never elect an African-American president. Now it seems anything is possible.
How can you rule out a well-liked 42-year old candidate from the House? Can anyone say with certainty that the next president isn't currently a member of the Black Eyed Peas? I can't. I won't.
During Obey's retirement speech, Ryan met with a Republican study committee, spent an hour with constituents in his office, and then caucused with Republican House leadership. At 4:15, he's scheduled to conduct a live interview with MSNBC's Dylan Ratigan.
I'm sitting on the stage with Ryan's 25-year-old press secretary, Kevin Seifert, who has handed Ryan's personal earpiece to the cameraman. Ryan supplies his own TV earpiece, as the ones the networks provide generally fall out mid-interview.
Without a second to spare, Ryan darts into the media room and sits down in front of the camera. Ratigan, the interviewer, is in the MSNBC studio – we can see the show as it progresses on one of the large televisions behind us. Ryan plugs his earpiece in and seems legitimately thrilled that Mötley Crüe is now playing in his left ear. With about ten seconds before the interview starts, he looks at Seifert and says – "what's the topic?"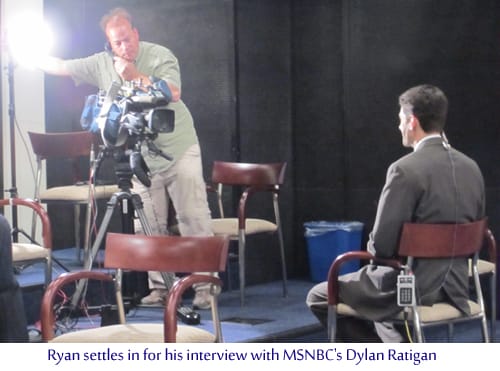 The topic happens to be the debt crisis in Greece, where government spending cuts have sparked deadly riots. He breezes through the interview. His appearance is flawless, although viewers with HDTVs can probably tell he's developed the hint of a five o'clock shadow. His hair is perfect. (See the interview here.)
And oh, the hair! Some would consider it Ryan's most recognizable feature. It is an astounding feat of modern architecture, with hairs taking off on one side of his head and landing safely on the other in perfect synchronicity. It often varies in length, but never lacks in durability.
Soon, the clock hits 6:15, and Ryan has to make his way to a conference of investment bankers at the Newseum, which is the print media's new monument to its former glory. On the way out the door, Ryan looks at staffer Sarah Peer and growls about being hungry. "Do I get to eat?" he asks. "It's not on the schedule," she curtly replies.
Ryan drives himself, Seifert and me to the speech. We get to the Newseum and meet up with a group of the hosts, who show us to the sixth floor, where a packed conference room awaits.
Veteran politicians see crowds like this at hundreds of events. Different people each time, but in a way they all act the same. They hover, waiting for the right time to step in and shake Ryan's hand. Finally, they get their 60 seconds to make an impression on one of politics' rising stars – and then they're gone, back to making small talk over stuffed mushrooms.
Neither Ryan nor his staff has prepared any talking points, but Ryan dazzles the financiers with honeyed pentameter about capitalism and free markets. After the speech, we dart back to the car. I ask Ryan how it is he can be "on" 24 hours a day? (When I meet new people, I usually want to take my shoe off and start hitting them with it.) He shrugs and says, "I don't really have any alternative."
We return to his office, and while we scarf down Thai noodles for the second straight night, I present him my theory on why "The Dark Knight," the latest Batman movie, is essentially the story of his own tenure in Congress. It's about one vigilante fighting against a corrupt political machine for the betterment of the public, whether or not the public knows it, or even wants it. The movie ends with Commissioner Gordon noting that Batman isn't "the hero we want, but the hero we need."
Ryan immediately begins systematically dismantling my argument, finishing by noting that Batman ended up the movie as the bad guy. I fully expected him to pull out a Congressional Budget Office chart comparing his budget deficit reduction plan to that of the caped crusader. I immediately regret bringing Batman up.
After he finishes eating, Ryan sighs. It's time to start another telephone town hall meeting, this time with the people of Racine County. He cracks a can of Miller Lite, ambles over to his desk, and slides his headset on. His computer screen lights up.
"Good evening, this is Congressman Paul Ryan…"

Forty years ago, on the day Paul Ryan was born, the Janesville Gazette ran a cartoon mocking President Nixon's handling of the economy. The cartoon shows Nixon in the passenger seat of a car dangling perilously off the side of a mountain, while telling the driver "now, put it in first gear and go ahead very slowly…"
Four decades later, Paul Ryan is facing the same predicament. He earnestly believes he has a plan to get America's economy off that cliff and back on the road to prosperity. All that's left to be settled is whether he will try to bring that change from a seat in Congress or from the Oval Office in the White House.
While we eat our second straight night of Thai food, the discussion turns to Ryan's fans continually demanding he run for president. I recount Act I, Scene II of Shakespeare's Julius Caesar – in which Caesar refuses the crown three times before his adoring fans force him to accept it.
Ryan smiles, pauses, and says, "And how'd that work out for him?"