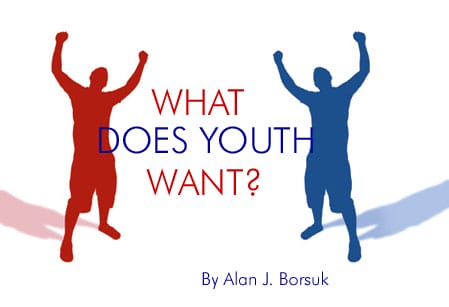 Pretty much what older people want, with a few key exceptions.
The loser now will be later to win, the noted social commentator Bob Dylan predicted in 1964 in his generation-defining "The Times They Are A-changin."
In Wisconsin, both Republicans and gay rights activists can take encouragement from those words.
And both can be encouraged by the results of a statewide public opinion poll conducted in September for the Wisconsin Policy Research Institute by the UW-Madison Political Science Department.
Less than a year after Barack Obama won Wisconsin in the 2008 presidential race by 17 points and Democrats captured the state Assembly after 14 years of Republican control, favorable opinions on Obama have softened, and the political affiliation of the poll respondents suggests a modest swing to the Republicans.
Furthermore, while younger voters voted heavily for Obama and Democrats in 2008, the WPRI poll shows little substantial difference among younger, middle-aged and older voters on party affiliation. Democrats continued to draw more favorable responses than Republicans, but the results suggest Republicans are gaining ground.
For example, in the November 2008 exit polls, Wisconsin voters age 18 to 29 preferred Obama over Republican John McCain by 29 points, a 64%-35% margin. But in the WPRI poll, less than a year later, sentiment on Obama was remarkably similar across age groups.
Among the 700 randomly selected Wisconsin adults for the telephone survey, 57% said they strongly approved or somewhat approved of the presidents performance. And the comparable figures by age group were 59% for the younger group, 58% for those 36 to 64, and 54% for those 65 and over.
Ken Goldstein, the UW political scientist who directed the poll, says the results raised interesting questions about electoral dynamics in 2010 and 2012. Will the strong support of Obama among young voters in 2008 convert into a continuing asset for Democratic candidates? Or was the Obama surge a product of the particular circumstances of the 2008 election?
Although younger people historically vote in lower numbers than older people, they have been a potent force in Wisconsin politics. In 1998, a large turnout of younger voters in Dane County was key to Democratic Sen. Russ Feingold's narrow victory over Republican challenger Mark Neumann (now a candidate for governor).
In 2006 and 2008, college towns around the state with active young voters elected Democrats to the state Assembly – a key factor in Democrats capturing control of the Assembly in 2008. Those college towns include Oshkosh, Platteville, Whitewater, Eau Claire and La Crosse. Young people turning out to oppose the gay-marriage ban in 2006 are credited for winning those seats for Democrats.
Indeed, the WPRI poll reveals a huge difference of opinion between younger and older voters that augers well for the future recognition of gay marriage.
"It's just amazing how big the differences are," says Charles Franklin, a UW-Madison political scientist who is co-founder of the Pollster.com website.
In November 2006, Wisconsin voters approved by a large majority (59.4%) a constitutional amendment defining marriage as a bond between a man and woman.
But Franklin says rapidly changing public opinion on gay rights, spurred by the open-mindedness of young people, almost assures that the 2006 ban
will be reversed at some point down the road.
In the WPRI poll, 42% of people 18 to 35 favored legalizing gay marriage, compared to 24% of 36-to-64-year-olds and 15% of those 65 and older. Civil unions, but not marriage, were favored by 29% in the younger group, 33% in the middle group and 34% in the older group. But 40% of the older group opposed either possibility, compared to 36% of 36-to-64-year-olds and just 28% of adults 35 and younger.
Do You Support Legal Recognition of Gay Couples?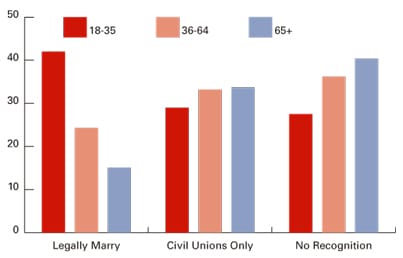 Goldstein says the age split was in line with other polls and research. "There's just been a sea change in American public opinion on gay marriage and related issues," he says, adding, it's happening "much more quickly among young voters."
While strong differences exist among younger adults and middle-age and older adults when it comes to politics, there are more similarities than commonly acknowledged. The WPRI poll illustrated both sides of the coin.
First, two dramatic differences that transcend partisanship and speak to longstanding, perhaps immutable elements of what it means to be younger:
Younger adults are just plain less interested in politics.
They get their news in sharply different ways than older people.
Asked if they follow politics "most of the time, some of the time, only now and then, or hardly at all," 30% of voters between 18 and 35 answered "most of the time," while 58% of those 36 to 64 put themselves in that category, as did 71% of those 65 and over. That's a huge difference between young and old.
The disparity is one reason many political campaigns focus on older people and issues like protecting Social Security and Medicare.
"Usually, when a campaign tells you they are going to win because of the enthusiasm of younger voters, they are guaranteed to lose," says Franklin. "Those folks are especially disengaged with politics. Its partly a lifestyle thing."
But as people age, get married, buy homes, start families and pay taxes, their political interest goes up. Historically, Franklin says, the percentage of people who vote rises steadily as age increases, falling only when people reach their 80s.
Surprisingly, political awareness for young adults is trending downward, according to Katherine Cramer Walsh, a UW-Madison political scientist. "They're definitely less politically interested…than people were in prior generations," she says.
There are a lot of theories why. Among the ones Walsh cites are the way political campaigns gear their messages to older voters and how todays media climate reduces the chances of people picking up political information. (Americans no longer sit en masse to watch the 6 o'clock network news.)
Walsh also says a case can be made that even if young adults arent interested in conventional politics, they engage in what some call "lifestyle politics," showing their position on issues by what they buy, how they use natural resources, and what causes they affiliate with.
Still, John Blakeman, chair of the Political Science Department at UW-Stevens Point, says that Wisconsin is a relative bright spot when it comes to young adult political involvement.
He cites research that puts Wisconsin consistently above the national average for younger voter turnout in presidential elections, including the second-highest turnout in the U.S. in 2004. Overall, Blakeman says, political participation among younger adults is highest in the upper Midwest and lowest in the South.
"The rosier picture for youth voting in Wisconsin speaks to the political culture here, which tends to value voting and other forms of political participation pretty highly," Blakeman says.
But the Wisconsin voter turn-out has to be put in the perspective the new poll supplies: The picture is still one of relatively low political awareness.
"On a really good day, about half of [young voters] are going to turn out to vote," Blakeman says. "You can understand that politicians would probably pitch their message elsewhere."
Not surprisingly, the second dramatic difference between younger and older people lies in their media habits.
Asked how they get most of their news on a typical weekday, 40% of the WPRI poll respondents who were 35 and younger cited the Internet, surpassing even television (38%). Radio was the answer for 14% and newspapers for only 7.5%.
Among the 36-to-64-year-olds, television was the main news source for 51%, while the Internet was cited by 16%. Only 2% of voters 65 and over cited the Internet-a whopping 38 points lower than among young voters. Sixty percent of seniors says television was their main source. Even in the older group, newspapers were the answer given by only 26%a clear sign of the troubles the newspaper business is having.
Where Do You Get Most of Your News From?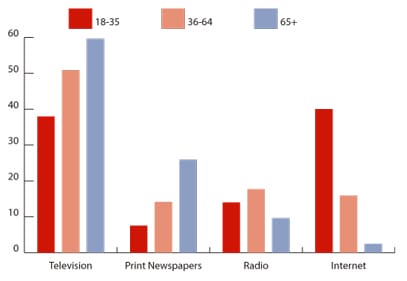 Has the sea change in media consumption affected the way political campaigns are conducted, especially in trying to reach younger voters?
"Absolutely," says Mike Tate, chair of the Democratic Party of Wisconsin. New strategies – including Internet fundraising and using social networking sites to organize – began showing up in 2004 and became pivotal to success in the 2008 campaign, Tate says.
Kristin Ruesch, communications director for the Republican Party of Wisconsin, shares this assessment. "We're targeting our efforts toward younger voters where they do get their news, and that is online," she notes. "Using Facebook, Twitter, email, blogs, you name it-that's where we're trying to reach out and, hopefully, have an open discussion of what issues matter to them."
Tate says politicians are even willing to risk ridicule to bring their messages to television hosts such as David Letterman, Stephen Colbert and Jon Stewart, who, through the use of comedy and sarcasm, have become major shapers of youth opinion.
But for all the gaping differences between young and old voters, the WPRI poll found that on most matters the generation gap didn't really exist. Here are examples:
There were relatively small differences on political affiliation. Thirty-three percent of the respondents said they were Democrats, 26% were Republicans and 40% independents. Among those 18 to 35, the responses were close to the same: 37% Democrats and 27% Republicans. Among those 65 and older, the percentages were 37% and 25%. In the middle age group, the percentage of Republicans was almost exactly the same, but the percentage of Democrats dipped to 30%, with the portion saying they were independents going up a corresponding amount.
What is Your Political Affiliation?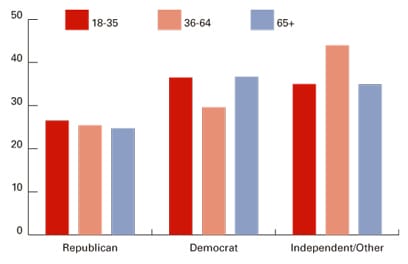 There were similar patterns when people were asked if they would vote for a Democratic or Republican candidate for the state Assembly if an election were held today. The Democrats led 40% to 35% overall, and there were no major differences among the age groups in levels of support.
Many people assume that younger voters have stronger feelings about environmental issues than older voters, but the poll results proved otherwise.
Asked whether they would favor steps that protect the environment over steps that maintain jobs, the total sample put the environment as a higher priority by a 48% to 39% margin. There were no major differences by age group.
Should the Environment be Protected at the Cost of Jobs?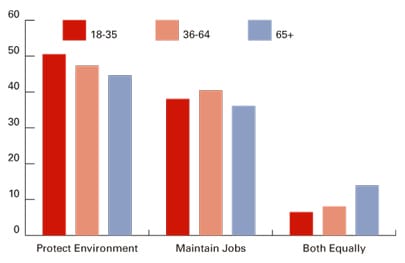 In another question, respondents were asked if they think global warming is occurring and whether they think the federal government can help stop it. Younger voters were more inclined to say yes to both, but only by a few percentage points.
Fifty-five percent of respondents 18 to 35 believe global warming is a fact, compared to 49% for those 36 to 64 and 50% for those 65 and over. Those saying government couldn't help stop it totaled 23%, give or take a half percent, in all three groups.
Middle-aged voters were a bit more likely to say global warming was not occurring, but there were not wide differences by age in the number who held that view-20% among those 18 to 35, 23% among those 36 to 64 and 18% among those 65 and over.
Younger respondents were just as opposed as older ones to the notion that government should see to it that everyone has a job and a good standard of living.
The overall poll results were 27% in favor of that position and 65% opposed.
Younger voters were neither more optimistic nor more pessimistic than their elders when asked if the U.S. is headed in the right direction. Overall, the response was 37% giving the right direction as the answer versus 54% believing the U.S. was on the wrong track.
However, people 35 and under were somewhat more optimistic about the Wisconsin economy improving over the next year. In the younger bracket, 50% expected things to get better, while in the middle tier, only 34% felt that way. Among those 65 and over, the figure was 42%.
And when it came to economic circumstances of their own families, younger people were far more optimistic. Thirty-nine percent said they expected their situations to get better in the coming year, compared to 24% of those in the middle bracket and 18% of the oldest group.
Asked what should be the top priority of the governor and Legislature, voters of all ages put the economy and jobs first, and by similar percentages (30% to 36% in each age category). However, there were differences by age group in the second-most-frequent response. Perhaps reflecting their personal circumstances, respondents 18 to 35 said making health care and prescription drugs more affordable was their second choice at 21%, compared to only 11% of the Medicare generation of 65 and over.
The second choice for older respondents was holding the line on taxes and government spending (picked by 21% in the middle bracket, 19% in the older bracket, compared to only 12% in the younger group).
Goldstein called the similar poll results for different age groups "the dog that's not barking." Many people overlook the similarities between age groups while concentrating on the differences, he says.
What is the Top Priority for the Governor and Legislature? (Click to Enlarge)

Franklin says that while younger voters have tended over the years to support Democrats, they are also influenced by political trends. In the 1980's, younger voters favored Republicans and President Ronald Reagan, he points out.
In general, Franklin advises that it isn't wise to think of young people as intrinsically Democratic, Republican, liberal or conservative. Politics just isn't that important to them. He argues that because young people are spotty voters and usually dont get involved in politics, you cant be confident how theyll vote when they do become politically active. The WPRI poll, he says, demonstrates "modest differences across age on most issues, with a few important exceptions."
Both Tate and Ruesch say their parties are intent on doing all they can to appeal to younger voters. On that score, the poll results clearly show that gay rights issues are an advantage for Democrats because of the strong and growing support among young adults for a cause that is strongly opposed by social conservatives in the Republican Party. Other issues are more of a toss-up.
The parties continue to believe that the support of young voters can make a difference in winning. And when it comes to communicating with those younger adults, they know they need to stay current with the latest advances in social networking.
If they want to communicate with younger people, the parties need, as Dylan would say, to start swimming or sink like a stone.
Alan J. Borsuk, a former reporter and editor at the Milwaukee Journal Sentinel, is a senior fellow in law and public policy at the Marquette University Law School.
To review the poll results, including crosstabs, go to the WPRI website: www.wpri.org.
Snapshots of respondents age 18-35:
38.5% have a gun in the house
57.5% are married
37% have never married
81.5% grew up with both parents
65.5% have children
26.5% are Republicans
36.5% are Democrats
40% rely mostly on the Internet for news
28% attend weekly religious services
28.5% hardly ever attend religious services
60% grade their community schools as an A or B
59% approve of President Obamas performance
39% don't know enough about the president's health care plan
50.5% approve of Governor Doyle's performance
42% never heard of Scott Walker
47% never heard of Mark Neumann
86.5% are registered to vote
47.5% experienced economic distress in past year
69.5% don't expect to move from Wisconsin in the next five years