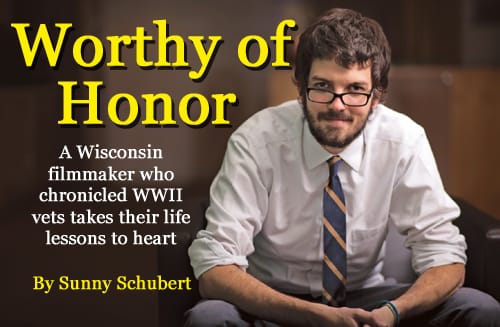 The day that changed his life started out badly for filmmaker Dan Hayes.
He woke up from a troubled sleep after breaking up with his girlfriend the day before.
And then his father, Stephen Hayes of Wauwatosa, called him in Washington, D.C., to say a bunch of old veterans from Wisconsin were in D.C. visiting war memorials and that Dan should go talk to them.
The younger Hayes remembers rolling his eyes at his father's suggestion. But, because he had nothing better to do, he picked up a video camera and headed over to the World War II Memorial.
It was November 2009.
The first vet he found was Theodore Gurzynski, and Hayes remembers asking him a softball question like "Hey, how's it going?"
Gurzynski looked at Hayes, blinked back tears, and said "I could die a happy man now that I've made this trip."
And Hayes was hooked.
As the veterans prepared to leave the monument on a chartered bus, one of them suggested Hayes join them. He did.
"I shot seven-and-a-half hours of film that day — the best, most inspiring stuff I've ever shot," he says. "It completely changed my life."
The film Hayes shot that day would eventually become part of the movie "Honor Flight," which premiered in Milwaukee last summer before the largest movie audience ever assembled: 28,442 people jammed into Miller Park.
And it's a pretty good bet that there were few dry eyes in the house when the film ended and the credits rolled.
Hayes' film tells the story of Wisconsin's Honor Flight program, which takes World War II veterans to Washington, D.C., to visit the memorial that opened in 2004 in their honor. It recounts the stories of the volunteers who organize and finance the flights and those who accompany the vets on their trip. All are mindful that time is running out because 900 WWII vets die every day. (Similar honor programs operate in almost every other state.)
But more importantly, "Honor Flight" chronicles the stories of the vets themselves: the 16 million young Americans who went to war when their country asked them to, and how, in the words of the film, "they saved the whole world." And how they came home and went to work and seldom told anyone about what they'd seen and suffered through.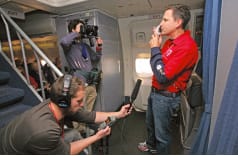 One such Wisconsin vet is a Port Washington man named Joe Demler. He was captured by the Nazis during the Battle of the Bulge and sent to a prison camp. By the time he was rescued, he weighed less than 75 pounds. Life magazine published his picture and called him "the human skeleton."
Hayes says the film is about "freedom, but it's about perspective, too. How a lot of the things we worry about and care about are nothing compared to what these guys lived through."
Hayes, 30, grew up in Wauwatosa, graduating from that city's East High School in 2001. He then earned a degree in mass communications at Miami University in Oxford, Ohio.
After graduation, he made a film about the university glee club and sent it to Reason TV, which produces libertarian films. They offered him a job in Washington making short documentaries.
Hayes says politically he's more libertarian than conservative. "One summer in high school I discovered Milton Friedman and Friedrich Hayek, and that pretty much settled it," he says.
No doubt he absorbed some conservative ideology just sitting around the kitchen table: His older brother is Stephen Hayes, a columnist for the conservative Weekly Standard and the author of a biography of Dick Cheney.
The younger Hayes edited those first few hours of film about the Honor Flight into a five-minute video, which he posted on Reason TV's website. It got 35,000 views and generated more e-mail than he'd ever received before.
But the Honor Flight story wasn't done with him yet. He couldn't stop thinking about the veterans, about how impossibly young most of them were when they marched off to war. "We knew we had something cool," he says.
Eventually, Hayes told his friend Clay Broga: "I gotta quit my job and make this movie." Broga agreed to do the same.
They formed a new company, called Freethink Media, along with a third friend, Kmele Foster. They shot more film over the course of two years and combed through World War II archives looking for old pictures.
They found sponsors to pay the bills while the film was in production. They didn't ask the Honor Flight organization for money, believing it was more important for that group to focus on its mission of getting vets to Washington before time runs out.
The film's theatrical release took place on Dec. 7, 2012 — not coincidentally, the 71st anniversary of the Japanese attack on Pearl Harbor. The Washington, D.C., audience that night contained many members of the Wisconsin congressional delegation.
It is still playing in theaters around the country, usually for just a night or two, but audiences keep growing.
To learn when it will be in a theater near you, go to www.honorflightthemovie and click on "see the movie." You can also sign up to host a viewing of the film through tugg.com.
Hayes says the film will soon be available for home viewing through various video-on-demand sites such as Netflix and Hulu.
The filmmakers submitted the film for consideration in the Best Documentary category of the Academy Awards, but it didn't make the cut. That's perhaps not surprising, given the accusations that Hollywood shuns patriotic themes after "Zero Dark Thirty" director Kathryn Bigelow was snubbed by the Academy in the Best Director category.
The five documentaries that received nominations are pretty predictable: two films critical of Israel's treatment of the Palestinians, one critical of the U.S. military's handling of sexual assaults, one about AIDS activism and one about an American folksinger few Americans have ever heard of.
Critical reviews of "Honor Flight" have been mixed. The New York Times was particularly brutal, calling the film "a barrage of weepy sentiment" and pretty much saying that World War II vets had been honored enough already.
But moviegoers don't seem to share the Times' weary disdain for an oft-told tale and often applaud as the credits roll, appearing to agree more with the Los Angeles Times, which called the movie "enormously moving."
Hayes says the experience of making the film is still teaching him things, particularly about the privilege of living in a free country.
"The 'freedom' theme is in the movie, but it's embedded," he says. "It's not gonna hit you over the head."
These days, in addition to promoting the film, Hayes and his co-workers are casting about for their next project. Talk shows? Comedy? Anything's possible, he says.
Oh, and he's back with his girlfriend. Life is good. Different — but good.