Arizona, Pennsylvania paved way for full licensure recognition
Democratic Gov. Tony Evers this month signed a law authored by Republican Sen. Chris Kapenga that allows Wisconsin to accept occupational licenses from other states when held by current and former military members and their spouses.
This worthy bipartisan reform, known as licensing reciprocity, will make it easier for military families that move to Wisconsin to practice their professions with little delay.
It's a good beginning.
But there's no reason to limit reciprocity to a select group, especially in light of the COVID-19 pandemic that threatens to overwhelm our healthcare system. Gov. Evers and state legislators should look to the example of Arizona and Pennsylvania and adopt legislation that would grant full licensure recognition to all out-of-state licensed professionals who want to work in the Badger State.
Military families were singled out for reciprocity because they move frequently and are often forced to endure time-consuming and redundant licensing processes. In fact, military spouses are 10 times more likely than a civilian spouse to have moved across state lines in the last year.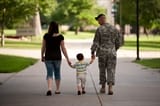 Lawmakers were right to ease the burden on this segment of workers. But Wisconsin licenses scores of other professions and approximately 20% of the total workforce, and all others must continue to slog through a bureaucratic quagmire – including healthcare workers badly needed to help care for COVID-19 patients.
Does it make sense to sideline healthcare workers who move to Wisconsin when the state already faces shortages?
If new arrivals to Wisconsin practiced a profession in another state and possess a license in good standing, they should be free to practice here.
As Arizona State University's Center for Economic Liberty notes in a recent policy brief, the lack of occupational licensure portability suppresses labor market opportunities for residents who choose to move to a new state. It may discourage some licensed workers from moving to a new state at all.
Arizona took the lead on licensing portability when in early 2019 it passed a universal licensure recognition bill, which allows all out-of-state license holders to get licensed in the state as long as they meet certain basic requirements (e.g., practicing for more than a year and having no disciplinary cases in their home state). According to the Goldwater Institute, more than 750 Arizonans successfully obtained an occupational license there since then.
Pennsylvania followed suit and passed a similar law last year. And about a dozen other states are pushing for universal licensure recognition this session.
In response to COVID-19, several states have passed forms of temporary licensure recognition this week to help satisfy the current and dire need for healthcare workers. The list of states to do so, which is likely to grow, includes Colorado, Texas, Washington, South Carolina, Maryland, Mississippi, Tennessee, Massachusetts and New Jersey.
Wisconsin should follow suit.
Such a reform would get more people into the state's workforce, encourage more workers to move their families to Wisconsin and – particularly during this time of crisis – help keep Wisconsinites as healthy and safe as possible.
Julie Grace is a Badger Institute policy analyst. Permission to reprint is granted as long as the author and Badger Institute are properly cited.