Legislative leaders say costly project not needed or wanted
Wisconsin officials in the Evers administration, supported by politicians in many of the state's big cities, are vying for a piece of a $4.56 billion federal Infrastructure Act pot that they want to use to broadly expand Amtrak.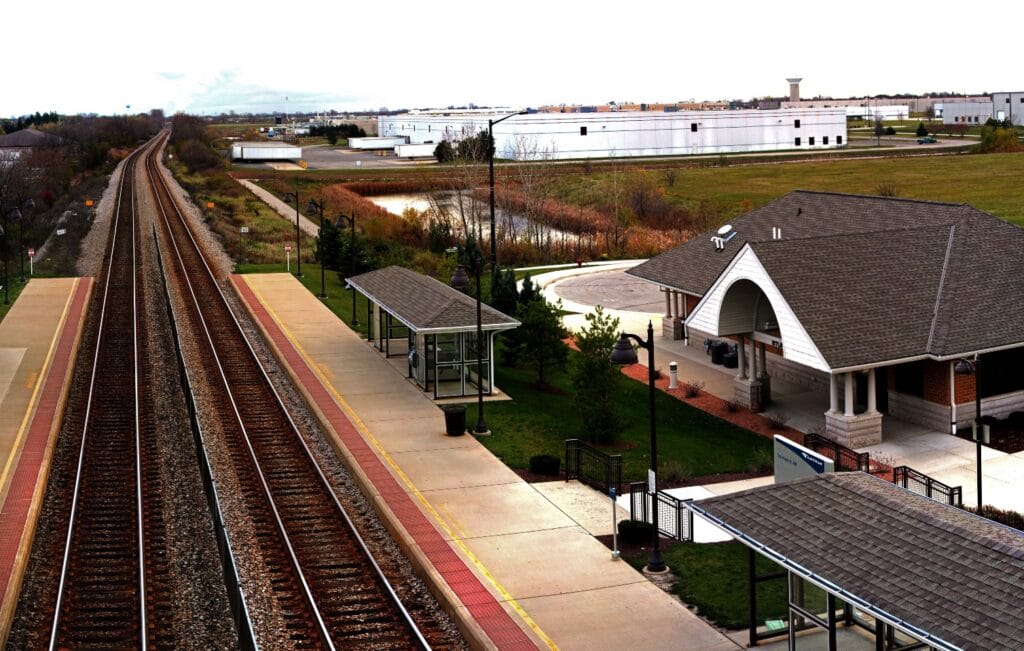 Most of the construction costs would be federally funded. But state taxpayers could be on the hook for operating and maintenance costs for an expansion that some legislative leaders say isn't needed or wanted.
Wisconsin is one of 90 state, regional and local transit entities outside the Northeast Corridor that will learn by the end of this year if the Federal Railroad Administration (FRA) approves the first phase of their projects.
The Wisconsin Department of Transportation (WisDOT) has asked the FRA to fund four projects. The first would extend Amtrak's existing Hiawatha line between Chicago and Milwaukee by adding four daily round-trips between Milwaukee and Madison, with proposed stops in Pewaukee and Watertown, said Lisa Stern, chief of railroads and harbors for WisDOT.
The second would extend the Hiawatha line north by adding three daily round trips between Milwaukee and Green Bay, with stops in Fond du Lac, Oshkosh and Appleton.
WisDOT is also asking for federal support for more round trips between Chicago and Milwaukee and to add a second roundtrip to the Chicago-Milwaukee-St. Paul line, she said.
Because the projects are in the preliminary stage, Stern could provide no total cost estimate for them.
Leaders from seven cities — Appleton, Green Bay, Fond du Lac, Kaukauna, Menasha, Neenah and Oshkosh — already have signed a letter sent to the FRA expressing support for the Hiawatha line extension to Green Bay.
Officials in Madison, Pewaukee and Watertown also have publicly embraced the expansion of the Hiawatha line to Madison.
The proposed projects make sense, said Stern, based on data collected and studied by WisDOT. She said they would give residents in Wisconsin's major population centers more transportation options.
Any expansion of Amtrak service that's less than 750 miles long requires state funding to pay for any operating costs not covered by ticket revenue. The FRA funds the initial infrastructure costs, Stern says.
Little political support on the right
Republican leaders, including Assembly Speaker Robin Vos (R-Rochester), and Senate Majority Leader Devin LeMahieu (R-Oostburg), are on record opposing any state funding to operate or maintain expanded Amtrak lines.
The chairman of the state Senate's Committee on Transportation and Local Government, Sen. Cory Tomczyk (R-Mosinee), said it's "appalling" that at a time when inflation, driven by runaway spending in Washington, is crippling Wisconsin families, "out-of-touch Democrats want to divert money from critical infrastructure needs into railway fantasies.
"The left's unrealistic dreams of a car-less country ignores that railway developments like those being considered in Wisconsin and already underway in California do not cover their own development and upkeep, consistently underperform rider estimates, do not move passengers faster than cars and have development costs that unfailingly skyrocket over initial estimates," Tomczyk said.
State Sen. Eric Wimberger (R-Green Bay), whose district includes Green Bay and much of surrounding Brown County, also opposes Amtrak expansion in Wisconsin.
"I haven't heard any serious conversations about this getting legs in the Legislature," said Wimberger, a member of the Senate Finance Committee and Joint Finance Committee. "It just doesn't make financial sense."
Two Amtrak Thruway buses currently run twice a day to connect travelers from Green Bay to the Hiawatha line in Milwaukee. Citing ridership numbers from WisDOT, those buses are about 38% full on average, Wimberger said.
"It's not like public transportation isn't needed or worthwhile," he said. "But to switch from two buses a day to a railroad line when you're not even maxing out bus capacity sounds like nonsense to me.
"Expanding rail service to Green Bay is virtue signaling at its worst — trying to impose an ideology by designating something as good, then doing it whether or not it makes sense," he added. "It's just bad economic and social policy."
Stern said she believes there is political support for expanding round trip service between Chicago and Milwaukee and on to the Twin Cities.
Ridership, economic impact questioned
Political prospects aside, elected officials across the country have been seduced by the $1.2 trillion Infrastructure Investment and Jobs Act, the third federal-funding explosion since the onset of COVID-19 in March 2020.
The infrastructure bill included a staggering $66 billion for Amtrak, $36 billion of it designated for improving and expanding intercity rail service outside the Northeast Corridor from Washington to Boston, according to a spokesperson for the FRA.
WisDOT officials have supported their expansion proposals with studies that project sharp ridership increases and billions of dollars in overall economic impact.
If the proposed service improvements are made, projected ridership in 2032 would be nearly 20% higher than ridership projections without the improvements, according to a report released in May by WisDOT's Bureau of Planning and Economic Development. And by 2050, projected ridership with the increased service would nearly double to more than 3 million passenger trips, according to the report.
Consultants used widely accepted computer-modeling programs to make those projections, Stern said.
Randal O'Toole, an economist at the Thoreau Institute and a nationally recognized public-policy and mass-transit expert, called those ridership projections "ridiculous" and "wildly optimistic."
"Nowhere in the country has Amtrak seen ridership double in the years after it adds a new train or trains," he said. "In fact, Amtrak ridership has been growing only very slowly compared with flying, driving or intercity buses."
Nationally, between 2010 and 2019, the year before the pandemic began, airline passenger-miles grew by 36% and driving mileage increased by 11%, while Amtrak intercity passenger-miles remained virtually unchanged, according to statistics from the United States Bureau of Transportation Statistics.
The number of Amtrak passengers that boarded and "detrained" in Wisconsin from 2016 to 2019 increased by only about 8%, to 971,800 from 898,800, Amtrak statistics show.
Big costs downplayed
If passenger-train service between Milwaukee and either Green Bay or Madison made business sense, venture capitalists would have already invested in such projects, O'Toole said. Amtrak has never turned a profit since it was founded in 1971.
WisDOT's proposal, like so many before it, ignores the history of cost overruns for such expansions while underestimating the rising maintenance and operating costs that will be supported with state tax dollars, O'Toole said.
"By predicting this huge ridership increase, it underestimates the potential subsidies the state will have to pay, thus making the plan appear more attractive than it really is," O'Toole said.
"The states that agree to give them the most money for operating costs for the longest time commitment will get the most money," he continued. "It's a race to the bottom to see which states will get suckered into supporting this archaic form of transportation."
O'Toole also said WisDOT's estimated economic impact of $2.3 billion from "one-time capital investments" — $1.8 billion from a Green Bay extension and $567 million by extending service to Madison — are unrealistic. Amtrak also estimates an additional annual economic impact of $70 million for the Green Bay line and $43 million for the Madison line.
Amtrak's multiplier — assuming the total amount spent on things like groceries and lodging by the workers employed to extend the rail lines — has long been discredited, O'Toole said. In today's labor market, those workers would spend those amounts while doing other jobs in a productive part of the economy, negating any Amtrak advantage, he said.
Fares won't cover it
How much Wisconsin taxpayers would have to kick in to cover operating and maintenance costs is unknown. But Amtrak's ticket revenue has never covered operating and maintenance costs, O'Toole said.
"Ticket revenue doesn't even come close to covering the costs," he said. "Amtrak counts state subsidies as revenue. Even if no one rides a train, they'll count subsidies as revenue."
While many forms of transportation in this county are subsidized, "the difference is the public actually uses those other modes of transportation and travelers pay the cost," O'Toole said.
And then there is the matter of travel time. The WisDOT proposal says that taking a train from Green Bay to Milwaukee would take about two hours and 50 minutes, or a little more than an hour longer than the time it takes to drive. Madison to Milwaukee by train would take about two hours, according to Amtrak, while the drive currently takes one hour and 17 minutes.
Nevertheless, the extensions have the support of Gov. Tony Evers. Former Governor Jim Doyle, another Democrat, supported a plan in 2010 when Wisconsin was slated to receive $810 million in federal funding to construct a rail line from Milwaukee to Madison.
The state purchased 28 train cars for more than $40 million in anticipation of the funding. Newly elected Republican Gov. Scott Walker refused the grant, and the federal government redirected the funding to other states.
Taxpayers were stuck with a $10 million bill when Talgo Inc., the Spanish company that sold the rail cars, won a breach-of-contract lawsuit. Talgo got to keep the rail cars.
Ken Wysocky is a Milwaukee-area freelance journalist and editor with more than 40 years of journalism experience.
Submit a comment
"*" indicates required fields