The fiscal calamity looming for our neighbor to the south could help lure businesses and workers to the Badger State
Illinois' fiscal woes are longstanding. Yet, following last fall's election, there is reason to believe its situation will only worsen. That provides a fresh opportunity for Wisconsin to entice more businesses and workers from our southern neighbor to relocate to the Badger State.
Illinois, like Wisconsin, held a gubernatorial election in November, where Democrat J.B. Pritzker prevailed. He ran on a platform of expanding government spending to such a degree that it would make a Keynesian blush. Despite the illogic behind the platform, some of Pritzker's proposals actually might become law because his party now holds a supermajority in both houses of the Illinois Legislature.
To put this in perspective, consider that, even before the election, Politico published an article headlined, "The Worst Job in American Politics: Why does J.B. Pritzker, or anyone, want to be governor of Illinois?"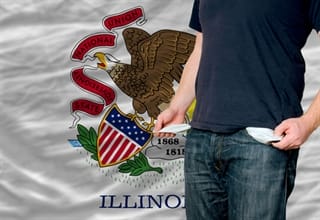 Illinois has a net long-term deficit of almost $142 billion, attributable to its overly generous pension and retiree health obligations to government workers — and obeisance to public-sector unions. That has left the state with the worst credit rating in the country, just one notch above junk status.
When the national economy stumbles, as it will at some point, and Illinois is left with no fiscal buffer to withstand the jolt, the results could be catastrophic.
Laurence Msall, president of the Civic Federation, a nonpartisan good government organization in Chicago, told Politico: "The state is on the edge of financial collapse." Even more striking is Politico's observation that Illinois' bonds "are now considered as risky as those of Russia and Romania."
Let that thought settle in for a moment. And, again, note that the above commentary describes the fiscal landscape in Illinois before factoring in what Pritzker has on his wish list.
During his campaign for governor, Pritzker advocated for increased spending for child care, elderly care, education from pre-K through college, infrastructure projects and a public option health insurance plan to compete with the private sector.
All of this would cost multiple billions of dollars on top of the billions needed to simply balance the budget based on the state's current expenses. That could lead to yet more bond sales and borrowing — and at long last earn Illinois the junk credit rating it richly deserves.
Of course, an alternative path would be to sharply increase taxes. One independent organization, Illinois Policy, projected that if all of Pritzker's proposals were to be paid for with a tax increase, it would require the equivalent of doubling the personal income tax rate to somewhere between 8.5 percent to 10 percent.
The author of a recent commentary in the Chicago Tribune, wryly headlined, "Get ready, Illinois, for the government you chose," warns readers of expected tax hikes and other unpleasantness.
Notwithstanding that, as the headline suggests, voters did it to themselves, many Illinois residents and businesses could get riled up. In fact, they are already riled up. An AARP poll of Illinois registered voters from earlier in 2018 revealed that 49 percent had considered leaving.
Not coincidentally, this past year, Illinois lost more people on a net basis than any other state in the country except New York (with a much larger overall population). Over the past five years, Illinois' population has dropped by 157,000.
Not good for Illinois — but maybe very good for Wisconsin.
In contrast to the Land of Lincoln, the Badger State looks like the land of milk and honey. Yes, the relationship between Democratic Gov. Tony Evers and the Republican-controlled Legislature has gotten off to a rocky start. But one thing that should unify them is the prospect of recruiting Illinois businesses to Wisconsin. And the case to be made is stronger than ever.
Differences between the two states are significant.
To begin with, Wisconsin's government pension fund is in sound shape. Also, unlike in Illinois, the public-sector union here has been neutralized by Act 10, curbing its collective bargaining power. While Evers is no fan of the law, passed in 2011, he must realize that Republicans would never agree to its repeal. And, truth be told, the law stands as a bulwark against the type of fiscal calamity besetting Illinois.
Conveying that message would be part of a good sales pitch to Illinois business owners looking to jump states.
Likewise, Wisconsin taxes, while still too high, have stabilized. According to a new released report by the Public Policy Forum, state and local taxes as a share of income are lower now than they have been since 1970. In other words, the trend is positive.
One effect is that Wisconsin is beginning to get noticed as a good place for start-ups — something that hasn't been true in the past. Milwaukee in particular recently landed on a list of best places to start a business. The new partnership that Northwestern Mutual, Kohl's, Baird, Rockwell Automation and the Milwaukee Institute formed to help fund local, early-stage enterprises also bodes well for the region.
One need only pay attention to the line of new businesses cropping up between Milwaukee and the Illinois border to appreciate the changes already taking place.
The opportunity exists for Wisconsin to take advantage of Illinois' self-inflicted misfortunes. We should seize it.
Jay Miller of Whitefish Bay is a visiting fellow at the Badger Institute. He is also a tax attorney and an adjunct professor at the University of Wisconsin-Milwaukee's Lubar School of Business.