Building new facilities often do little to alleviate the scourge of crime-ridden neighborhoods, which just get pushed to the background — until they explode.
The idea of building a new arena for the Milwaukee Bucks and an adjoining $500 million entertainment district has our civic leaders salivating. I like the idea, too, especially if it would revive the Park East corridor in downtown Milwaukee. Still, expectations should be held in check. Baltimore tells us that.
I lived in Baltimore in the late 1970s, when its downtown was a poor cousin to nearby Washington, D.C. Things were so bad that Randy Newman wrote a song titled "Baltimore" that included these lyrics:
Hooker on the corner
Waitin' for a train
Drunk lyin' on the sidewalk
Sleepin' in the rain
Then something remarkable happened. A civic-minded developer named James W. Rouse transformed the city's Inner Harbor into a tourist destination, which led to upscale living spaces, bars and restaurants in the surrounding area. New, state-of-the-art baseball and football venues followed. Baltimore had turned the corner, or so it seemed.
In his later years, Rouse and his wife, Patty, formed the nonprofit Enterprise Foundation, which helped local groups around the country develop affordable housing. In Baltimore's Sandtown-Winchester neighborhood, Rouse went beyond housing to initiate job-training and other programs designed to combat the poverty endemic there. It was the work he was most proud of, according to an article in the Baltimore Sun.
Fast-forward to the present. Sandtown, of course, was the site of rioting in April that rocked Baltimore. Depressingly, the ingredients that helped spark the violence have not changed much in the intervening years, despite the efforts of Rouse and other civic leaders.
When Rouse rolled up his sleeves 25 years ago, the unemployment rate in Sandtown was 44%, pretty much where it is today. Vacant housing, drugs, crime and bad schools persist, and, if anything, the situation may be more dire now. Baltimore had 42 homicides in May, the most for any single month there in over 40 years.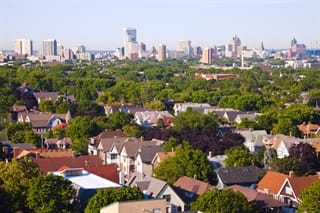 The message is clear. Building new facilities and even rolling out an array of well-intentioned programs often do little to alleviate the scourge of crime-ridden neighborhoods, which just get pushed to the background — until they explode.
In a recent Milwaukee Journal Sentinel op-ed, University of Wisconsin-Milwaukee professor Mark V. Levine made a similar observation. But then he concluded that the apparent answer is "bold new strategies and major public investments."
I applaud bold new strategies, but I question whether major public investments offer a panacea. For as long as anyone can remember, Baltimore has been led by tax-and-spend politicians who have invested public funds heavily, both state and federal. Is the answer just to spend more?
Most people would agree that the solution, at least in part, lies with jobs. That, however, requires private investment, which requires policies that will induce employers to want to locate there.
But even that won't solve the problem unless residents have a decent enough education and requisite job skills to be employable. It's unlikely that a large number of the jobs created in Baltimore's Inner Harbor went to young men from the Sandtown neighborhood. Instead, the jobs went to better-qualified or better-educated applicants living elsewhere.
The same thing will happen in Milwaukee unless bold new action is taken with how we educate inner city children and young adults here. You can't force employers to hire people who lack the skills or work ethic to succeed.
So what can Milwaukee do? Students must learn how to read, write and communicate well, do math and understand concepts. This sounds basic, yet it apparently eludes the grasp of too many high school dropouts, or even graduates, in Milwaukee.
We need to return to the fundamentals of education. And we need good, fearless teachers to lead us there. There are some in the classroom already and others to be found at organizations such as Teach for America.
Jobs and education go together inextricably And, be forewarned, this is a long-term endeavor. Apparently even Rouse doubted whether his Sandtown venture ultimately would succeed. As the author of the Baltimore Sun article put it, Rouse observed that Sandtown residents "found it difficult to focus on issues that would not have an immediate impact."
Therein lies the challenge for our civic leaders and residents. Stick to long-term solutions, and forget about the quick fix.
By all means, let's build a new arena and entertainment center; it would be good for the city of Milwaukee. But let's not deceive ourselves: It won't cure what really bedevils our inner city neighborhoods.
Jay Miller of Whitefish Bay is a tax attorney and an adjunct professor at the University of Wisconsin-Milwaukee's Lubar School of Business. He writes "The Right Balance" blog at JSOnline.com. This column represents his personal opinion.