New law levels playing field for aspiring Wisconsin chiropractors
Licensure reform eliminates state's arbitrary higher exam scores, which had fenced out many would-be chiropractors
CONTACT: Badger Institute Vice President Michael Jahr, (262) 442-5208 or michael@badgerinstitute.org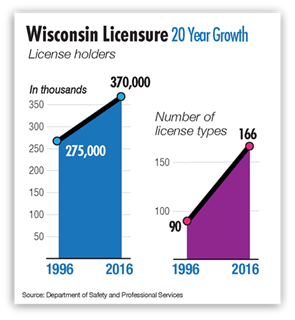 April 16, 2018 — A bill signed by Gov. Scott Walker today will allow aspiring chiropractors who pass the national board exam to secure a license in Wisconsin without having to attain an arbitrarily higher score set by the state. The reform measure, authored by Rep. Dale Kooyenga (R-Brookfield), brings Wisconsin in line with 48 other states that accept the national accreditation standards.
Under national chiropractic standards, a score of 375 points on the third and fourth portions of the exam is required to obtain certification. Until today, Wisconsin required scores of 438 and 475, respectively, on these sections, a deterrent to many would-be Wisconsin chiropractors.
Mikhaila Weister, who graduated from chiropractic school in 2016 and passed the national exam more than once, attended the bill signing in Madison and said she was relieved and excited by the reform. Weister is an Appleton native who wanted to practice and raise a family in her hometown but was stymied by Wisconsin's higher requirement.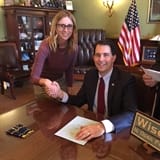 "It's been frustrating that I graduated in November of 2016 and haven't been able to practice," said Weister, who added that her angst was compounded by the costs associated with a newborn and $230,000 in college loan debt. "This bill is offering so much hope for so many people. It's life-changing. People were living in the basements of their parents' house and working as bartenders, just not fulfilling their passions."
The change in law will allow Weister to pursue her profession at an established practice in De Pere.
More than 370,000 residents now require a government permission slip to work in Wisconsin. The system was originally established a century ago with licensing or certification requirements usually related to health care. In the last 20 years, the number of occupational requirements has ballooned from 90 to 166. Instead of protecting public health and safety, many of these regulations fence out newcomers, drive up consumer costs, decrease competition and stifle innovation.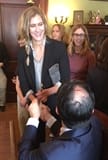 Amanda Berkley, a fourth-generation Wisconsin chiropractor, also attended the bill signing. When Berkley took the national chiropractic exam, her score put her at the top of the class in all but two other states. But she was five points short of Wisconsin's requirement on the fourth portion of the exam.
Berkley's family — her parents, grandfather and great-grandfather — have practiced in the La Crosse area for nearly a century. The new law will allow her to join her parents' practice.
"It means a lot to me to actually be able to practice in my hometown and not have to worry about moving somewhere else," she said. "I'm super excited, not only for me, but it's affecting so many of my classmates, so many young chiropractors in Wisconsin. It's great for the state. Who doesn't want more professionals in the state that are going to increase quality of life and really care for their communities?"