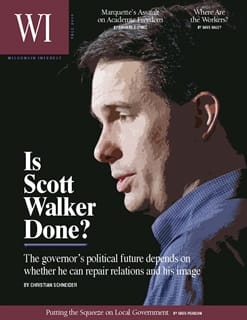 Scott Walker is back in town
Postmortems — complete with recriminations and finger-pointing — will continue to be written about Gov. Scott Walker's aborted presidential bid. But the implications of that flame-out for Wisconsin politics are both immediate and potentially long-term. A campaign that once promised to be a culmination of Wisconsin's remarkable conservative revolution may turn out to have been a fatal distraction. Or perhaps merely a speed bump. Walker's most immediate task will be to dispel the notion that he returns to his day job in Madison as a wounded lame duck. Already, there are signs that a re-engaged Walker may revive the conservative agenda as he takes a more active role in state issues.
In our cover story, Christian Schneider asks the obvious questions: Now that Walker is back, what happens next? How will an increasingly independent GOP Legislature react now that Dad is home?
Also in this issue, I take a look at Marquette University's ongoing attempt to fire a conservative tenured professor for a blog post that he wrote. The case of John McAdams, a well-known professor of political science, is already emerging as one of the pre-eminent academic freedom cases in higher education. As Richard Esenberg told me: "Marquette has to decide what kind of university it wants to be. Is it committed to free and open discourse? Or does it want to become ground zero in the battle over increasing intolerance on America's campuses?"
We also dive into a variety of the state's most pressing issues. Dave Daley explores the chronic problem of Wisconsin's worker shortage; Julie Kelly looks at a remarkable expansion of taxpayer-funded school lunch programs; Greg Pearson examines the savings and efficiencies of government consolidation; Esenberg provides his own look at the fight over religious freedom; and Sunny Schubert profiles the remarkable Alberta Darling, Wisconsin's own Iron Lady.
— Charles J. Sykes
Millions sit unemployed while businesses can't find qualified workers.
By Dave Daley
Thousands of middle-class Wisconsin students get taxpayer-funded meals under a new federal program.
By Julie Kelly
The decision to fire Marquette University professor John McAdams nearly stands alone.
By Charles J. Sykes
The governor's political future depends on whether he can repair relations and his image.
By Christian Schneider
Local governments are merging services to become more efficient and to save tax dollars.
By Greg Pearson
Despite personal loss, state Sen. Alberta Darling stays the course.
By Sunny Schubert
Protecting religious freedom isn't always easy or popular.
By Richard Esenberg
Has America lost its will to work?
By Mike Nichols
A rough stretch for District Attorney John Chisholm.
By Charles J. Sykes