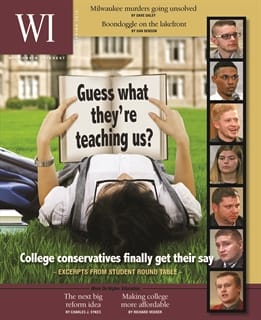 Wisconsin could lead the way again
Let us take a moment to celebrate our unique political culture here in Wisconsin. In early April, the Badger State erected a firewall of rationality in the madness of the 2016 presidential race. And it did so by emphasizing its traditions of civility, decency and conservative principle.
In the wake of the April 5 GOP primary, Grover Norquist and others noted that the result was a rousing endorsement of the conservative reform movement here. "What (Gov. Scott) Walker and his allies have done is a home run for taxpayers," Norquist told National Review. "People all over the country should be studying it because it proves that smart policies also make for smart politics."
But, of course, we are not done yet. One of the next big ideas may be the reform of the bloated leviathan of higher education. Again, Wisconsin could take the lead.
In this edition of Wisconsin Interest, we take a deep dive into the issue, examining both the climate of ideological intolerance and the rising cost. WPRI President Mike Nichols and I sat down with a group of University of Wisconsin System students to find out what it's like to be a conservative on campus these days. (Click here to watch video of the round-table discussion.) And I sketch out some ideas that could remake colleges and universities and transform the undergraduate credential. Be sure to also check out Nichols' column on how liberal professors are indoctrinating students and Richard Vedder's Guest Opinion on making college more affordable.
Also: Richard Esenberg examines the phenomenon of Trumpism; Betsy Thatcher profiles Dean Strang, the now world-famous attorney of Steven Avery; Dave Daley raises provocative questions about Milwaukee's declining homicide clearance rate; and Dan Benson looks at a classic government boondoggle on Milwaukee's lakefront.
On, Wisconsin.
— Charles J. Sykes
Marquette University and WIAA apply muzzles.
By Charles J. Sykes
Conservative students forfeit freedoms to survive in a liberal environment.
By Mike Nichols
The Trump phenomenon: How did we get here?
By Richard Esenberg
How Wisconsin could lead the way in transforming the modern university.
By Charles J. Sykes
They built the Downtown Transit Center in Milwaukee, and nobody came.
By Dan Benson
With tuition skyrocketing, we need bold changes to improve access.
By Richard Vedder
From Steven Avery case to John Doe, lawyer challenges government power.
By Betsy Thatcher
Killers remain on the streets in 4 of 10 Milwaukee cases.
By Dave Daley
UW System students recount their challenges bucking the liberal trend.
Excerpts from round table