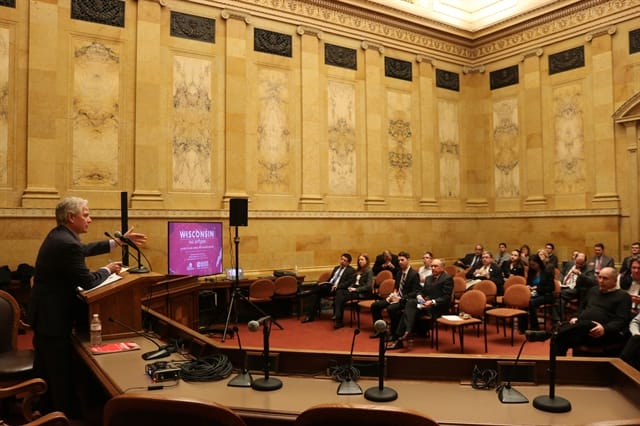 The Badger Institute's Policy Symposium, "Common-sense Solutions for Wisconsin," was held on Feb. 20, 2019, at the state Capitol in Madison.
The symposium introduced common-sense ideas and strategies designed to make Wisconsin a better place to live, work, raise a family and do business. Scholars, experts and distinguished guests offered policy ideas to inform and inspire on topics ranging from transportation funding to criminal justice reform to the ideal tax structure for our state.
Wisconsin's Ideal Pro-Growth Tax Structure
Katherine Loughead, Policy Analyst with the Center for State Tax Policy at the Tax Foundation

Joe Bishop-Henchman, Executive Vice President at the Tax Foundation

Mike Nichols, President of the Badger Institute
Proven Successes in Criminal Justice Reform

Cecelia Klingele, Associate Professor, University of Wisconsin Law School

Tom Lyons, State Director, Wisconsin Right on Crime
Jeremiah Mosteller, Policy Liaison for the Charles Koch Institute
► Watch Video of Presentation Here.

Occupational Licensing: At What Cost?

Dr. Morris Kleiner, Professor and AFL-CIO Chair in Labor Policy at the Humphrey School of Public Affairs at the University of Minnesota and co-author of "At What Cost? State and National Estimates of the Economic Costs of Occupational Licensing."
Transportation Needs and Funding

Dale Knapp, Director, Forward Analytics
Robert W. Poole Jr., Director of Transportation Policy at the Reason Foundation and author of "Rethinking America's Highways: A 21st-Century Vision for Better Infrastructure."
► View Knapp's PowerPoint Here.
► View Poole's PowerPoint Here.