Travaux, the authority's nonprofit arm, has strong ties to Milwaukee city government
The controversial Convent Hill South mixed-income apartment building has thrust into the spotlight its developer, Travaux Inc. — a little-known, nonprofit arm of the Housing Authority of the City Milwaukee (HACM).
Travaux has maintained a relatively low profile since its incorporation in 2013, but that changed dramatically when officials in April announced plans to build Convent Hill South.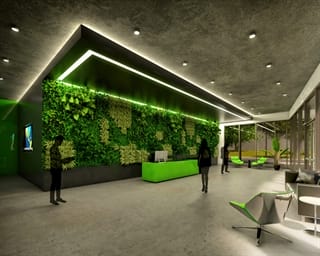 The upscale development is a marked departure from a typical affordable housing project developed by the HACM, a government agency that is primarily funded by the federal government but is effectively controlled by the City of Milwaukee.
As such, the project has raised eyebrows among developers, some of whom have criticized the efficiency of using Housing Authority funds to build upscale, high-rise housing, even if it includes some affordable units. They also question the merits of a government agency directly competing with private developers on luxury apartment buildings in an already crowded marketplace.
But Warren Jones, vice president of construction for Travaux and a former HACM director of development, says private developers shouldn't be concerned about competition. "We're not out to take someone else's money away," he notes. "Our hope is to create our own niche and not displace any other developers."
So what is Travaux (a French word that loosely means "work" or "labor"), and what is its purpose?
It's essentially a wholly owned subsidiary of the Housing Authority, says Jones, who worked for the HACM for 20 years. He describes Travaux as a real estate development company with a social mission that provides construction-management, property-management and consulting services.
The Travaux, Housing Authority connection
Travaux is governed by a 10-member board of directors; the seven-member Housing Authority board of directors appoints members to the Travaux board. Some Travaux board members have strong ties to Milwaukee city government, including Antonio Perez, who's also executive director of the HACM, and current and former aldermen.
Travaux's budget for 2019 is $4.4 million. It's 30 employees are paid through revenue generated by construction-management contracts and property-management/consulting fees, says Amy Hall, communications coordinator for the HACM.
Some employees used to work for the Housing Authority. Rehiring those employees at Travaux saves the authority money by reducing the so-called legacy costs of post-retirement pensions and benefits, Jones says.
To get Travaux off the ground, the HACM provided seed money of $98,000 and a $3 million line of credit. Travaux finances construction projects with either funds from the U.S. Department of Housing and Urban Development (HUD), private investors or commercial loans, Hall says.
As a nonprofit, any income that Travaux generates above and beyond its expenses flows back to the HACM, where it's used to fund affordable housing projects and amenities, Hall says.
Created by a state charter in 1944, the HACM essentially is a conduit for federal and state affordable housing funds. The authority technically operates independently from the City of Milwaukee, but the mayor appoints board members. The Common Council then approves those appointees.
The Housing Authority receives no funding from the City of Milwaukee, although it does make an annual payment in lieu of taxes (PILOT) to the city, which is 10% of its rental income minus utility expenses. In 2018, that payment was $871,131, Hall says.
The HACM's operating budget for 2019 is approximately $40 million. The agency receives money from HUD to operate its public-housing units and a voucher rental-assistance program. In addition, it competes for low-income housing tax credits issued by the Wisconsin Housing and Economic Development Authority (WHEDA) to build and rehabilitate affordable housing, Hall says.
A HUD operating subsidy as well as rental income from HACM-owned properties fund employees' salaries, she says.
Travaux effectively morphed from the HACM's old modernization and development services department, which developed properties owned by the Housing Authority. But unlike that department, Travaux is allowed to provide construction-management services and can work outside of Milwaukee County.
A primary reason for Travaux's creation is the slow erosion of federal funding for affordable housing. Travaux can generate revenue by developing real estate, such as the Convent Hill South project, and working with housing authorities around the state as a consultant or a construction/project manager, for example, Jones says.
"As federal funds continue to dwindle, we need to find income streams that will allow us to continue to develop and build our portfolio," he says. "And one thing we know how to do is real estate development."
Moreover, HUD is encouraging housing authorities nationwide to innovate by creating entities such as Travaux, which can generate revenue in the face of declining federal funds, Hall adds.
Ken Wysocky of Whitefish Bay is a freelance journalist and editor.
THE TRAVAUX BOARD
Chairman Mark Wagner, retired Realtor (also chairman of Housing Authority board)
James Bohl, former Milwaukee alderman who now works for the City of Milwaukee Intergovernmental Relations Division
Grady Crosby, vice president of public affairs and chief diversity officer at Johnson Controls
M. Joseph Donald, 1st District Wisconsin Court of Appeals judge (also on Housing Authority board)
Eugene Guszkowski, architect and principal at AG Architecture
Kimberly Hurtado, construction law attorney and founder of Hurtado Zimmerman SC
Eugene Manzanet, community lending manager at US Bank
Daniel McCarthy, executive at Zilber Property Group and former Department of City Development employee
Antonio Perez, executive director of Housing Authority of the City Milwaukee
Khalif Rainey, Milwaukee 7th District alderman
Related stories:
► Government's unfair housing foray
► Opportunity Zones stray from original intent
► The perils of state-run retirement plans
► No need for state-run student loan refinancing