Fewer barriers mean barbers and stylists are now free to own and grow their businesses beyond shops and salons
If not for recent changes in Wisconsin's occupational licensing rules, Jason Boatright would not be running a thriving barbershop in Sun Prairie.
Nor would Sharon Hudson — a.k.a. Sharon Shearz — have the ability to provide full salon services to clients throughout southeastern Wisconsin from her SUV-based mobile beauty shop. And Albert Walker would not have been able to — finally — open his Green Bay barbershop or go mobile with haircuts and shaves at a local farmers market.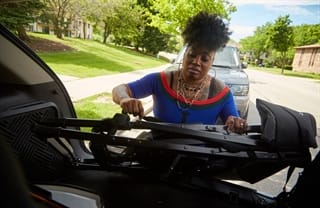 Reforms approved in 2017 to Wisconsin's complex occupational licensing system removed barriers for barbers, cosmetologists and other beauty-related professionals to obtain a license, own a business and work outside a shop. The reforms gained legislative support after the Badger Institute began to highlight stories of Wisconsinites negatively affected by state licensing requirements.
Among the reforms:
• Separate, additional licensing requirements for barbers and cosmetologists who want to become managers were eliminated.
• Continuing education requirements for barbers, cosmetologists, aestheticians, electrologists and manicurists were eliminated.
• Professionals from other states who have 4,000 hours of experience and a clean business track record can obtain a reciprocal license more easily.
• Professionals can provide services outside of salons or shops to all customers, not just to those who are homebound or institutionalized.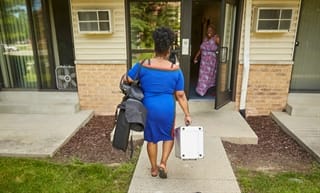 • Professionals can provide instruction in their fields without obtaining an additional license.
Since the reforms were signed into law, state officials have begun a broader examination of licensing rules for other professions. Wisconsin is among several states including Connecticut, Nebraska, Ohio and Vermont that have adopted occupational licensing reforms in recent years. Arizona, Montana and Pennsylvania now accept all licenses from other states. This full reciprocity makes it easier for those who move to these states to continue working without having to renew a license they already earned elsewhere.
Arizona in 2017 passed an even more comprehensive bill — the Right to Earn a Living Act — which requires the state to review all of its licenses and eliminate those that do not fulfill "legitimate public health, safety or welfare objectives." All workers who may be affected by such licenses can petition the state and, if necessary, pursue legal action.
Although there is no way to calculate the full impact of Wisconsin's reforms so far — for example, the number of barbers or cosmetologists who now are self-employed or running shops because they no longer need a manager's license — after nearly two years, anecdotal evidence indicates the reforms led to opportunities for employment and the creation of new businesses.
'Started out of nothing'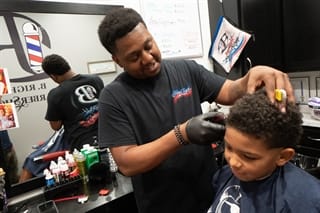 Boatright has no doubt about the benefits, pointing out that under the former requirements, he could not have opened his B. Right Barbershop in Sun Prairie so quickly after earning his barber's license. Without the reforms, Boatright first would have been required to take manager's classes at a cost as high as $20,000 or work for 4,000 hours under the supervision of a manager.
Boatright, 35, says he began cutting hair at age 12, but it was only in recent years that he realized barbering could be a lucrative career.
The native of Joliet, Illinois, admits to mistakes as a young adult that led to boot camp for stealing a car and jail time for gun possession. He came to Wisconsin after his then-wife told him they needed to move their family away from the crime and violence in Joliet. He worked a few warehouse jobs but found them less than satisfying and decided to enroll at Madison College and get a barber's license.
Boatright credits Terry Moss, owner of Atwood Barbershop in Madison, for help and mentoring. While in school and after graduating in 2016, Boatright worked for Moss, who taught him well beyond the basics. "Terry taught me how to run a business — the dos and don'ts. He took me to barber shows."
Madison College cosmetology instructors Melissa Brainerd and Vicky McNally were other mentors, staying in touch, encouraging Boatright to open his own shop.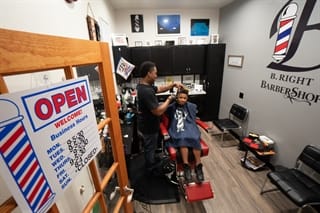 "It was a big step," Boatright says. "I went home and prayed on it … . I was nervous. Will I be successful? It's not just cutting hair — you own something. Sometimes God is just smacking you. You have to seize the moment."
Boatright left Atwood and opened his shop in March 2018, just months after the reforms took effect. He says he's prospering with a diverse clientele, including women, drawing people from many professional and ethnic backgrounds in the Sun Prairie community. A special focus is young men who might need a bit of direction; Boatright is quick to offer guidance on how to steer clear of trouble.
"I tell them this was started out of nothing," he says of his barbershop. "You can be something. Believe in yourself.
"A barber can change a lot of things if they take the time to care … . When you're in this position, you can reach these kids."
Boatright hopes to open a second shop that would include a mobile barber to meet a growing demand among clients who want the convenience of not having to go to a shop.
Ultimately, his goal is to provide not only a business but a legacy for his family — his fiancé and their combined six children.
"It's not just a barbershop; I'm here for the community."
Mobile opportunities
For Hudson, closing her Milwaukee salon earlier this year allowed her to cut her operational costs by shifting to a completely mobile salon. Because she had been doing haircuts, coloring and other beauty services in nursing homes and for individuals in home care, she did not realize that a mobile business serving other types of clients would have violated state regulations before the reforms.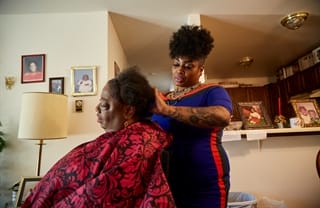 Hudson, 40, has been licensed since 2005 and worked for salons until 2014, when she opened Salon Options on the city's northwest side, having obtained a manager's license under the former rules. Her move to mobile was prompted by high costs to run the salon, elderly clients who could not travel and clients with alopecia, who prefer the privacy of their homes. (Alopecia is an autoimmune disorder causing baldness or unpredictable hair loss.)
In recent weeks, Hudson altered her business model again. Now operating as Shearz Hair Artistry, Hudson works four to five hours per day at Gee's Clippers in Milwaukee's central city and spends the later part of each workday with mobile clients.
A Chicago native now living in Brown Deer, Hudson markets her services through Facebook, Instagram and Google, serving clients throughout southeastern Wisconsin and in Illinois, where she grew up.
"I like working alone, having one-on-one with my clients, having a private moment, especially for those with medical conditions," she says.
Hudson, who has two sons and a daughter, graduated from Milwaukee Area Technical College and then worked at Supercuts to gain as much experience as possible. She describes herself as a multi-culture stylist who can provide full services wherever her clients are.
Hudson's mobile shop is a Jeep SUV, packed with everything she needs — from a chair and portable sink to dryers, supplies and disinfectants. Although she's had many mobile clients in nursing homes, she now has other customers who book her for a cut or color at work over their lunch hour or in their homes.
"I run a professional business, regardless of location," Hudson says. "My clients have someone professional entering their environment. … I love to make my clients feel comfortable with me being in their setting."
'Gaining momentum'
The former licensing rules hampered Walker when he first tried to launch Imago Dei Barber Lounge in Green Bay. For him, the reforms came a bit late, but he's thankful now to have a successful business that he's working to build.
Despite nearly 20 years of experience and likely tens of thousands of hours as a barber, Walker was unable to open his shop as initially planned in 2017 because, although he held a Wisconsin barber's license, he was not licensed as a manager.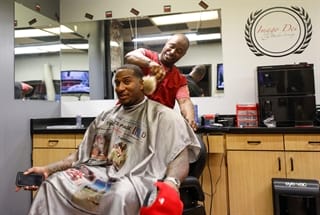 Walker was aware of the requirements and had intended to partner with a licensed manager. However, the partner backed out at the last minute, causing Walker to incur costs for his lease, supplies and equipment until he was able to open months later after the reforms were approved.
So how are things for him and his shop today?
"Honestly, the truth is I'm still at a loss," Walker says. "I'm gaining momentum, but I'm not above water. And I can't get back what I lost." He estimates it could take another year for him to pay off his debts from the delay in opening his business.
However, he remains optimistic.
Walker — an ordained minister active in The Captive Project, a Milwaukee ministry that mentors young people — says he wants to use his business to help others. That includes men who are incarcerated, using education and training to teach them what he calls the entrepreneurial mindset.
"My goal is to work with people, carry them out of prison," Walker says. "Help men become men, walking with them."
He recently began setting up shop each Wednesday at the downtown Farmers' Market on Broadway, giving him a chance to showcase the latest national and international industry trends. He uses his mobile operation to demonstrate new skills in cuts and color — such as balayage, a painted highlighting technique — with clients in a relaxed outdoor setting.
Under the former rules, the main focus was to get a manager's license, with little incentive for barbers and cosmetologists to stay current or learn cutting-edge techniques and industry trends, he says.
"My aim is to advance our culture, techniques and style, to share our love for our community and have fun while we do it," Walker says.
"My ultimate goal is to run a barber's college in Green Bay. I'm joyful for the freedom I have now."
Marilyn Krause, principal of Krause Communications, is a former reporter and editor for the Milwaukee Journal Sentinel.
More Badger Institute coverage:
Government's Love for Licensure
Long ordeal to get licensed in Wisconsin frustrates aspiring hair stylist
Salon owner says Wisconsin licensing hurdles make it tough for small businesses
Green Bay barber stymied by state licensing rules
State licensure rules stand in way of on-demand barbering startup