'We're not playing with people's lives. We're playing with people's hair.'
Editor's Note: On Nov. 27, 2017, Gov. Scott Walker signed into law licensure reforms that removed separate licensing requirements for barbers and cosmetologists who want to become managers.
Second in a series of WPRI stories and research on the issue of professional licensing in Wisconsin.
Watch video of Krissy Hudack's story here.
Read previous story in the series here.
Krissy Hudack was working as manager of her hair salon without the proper license. She admits that.
But there's more to the story from her side of the stylist's chair.
It's the tale of a small shop owner trying to get established — facing hurdles and fees from a state agency.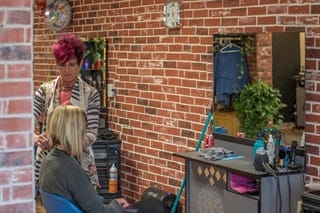 About two years ago, Hudack was working as a hair stylist at Beauty Stuga ("house of beauty"), a salon on Main Street in tiny Iron River in northern Wisconsin, population 1,123. She'd gone to school to become a hair stylist in the 1990s and worked at a salon in nearby Ashland for a few years. After she became pregnant, she says, she became "grossed out by hair, so I let my license go."
In April 2008, her son Skyler died. He was 11. Hudack didn't leave her house for about three years. She got counseling, and it kept telling her one thing, she says: "If people looked better, they would probably feel better — and that was my big push to go back to school."
While going to school, she moved to Iron River, where she has family.
The owner of Beauty Stuga decided to sell, and Hudack decided to buy it. She named the salon Sky's the Limit, in honor of her son.
Hudack opened the salon with the required licensed cosmetology manager on staff, but the manager left. The salon already had opened, and Hudack needed to keep it that way.
"I had a manager, but she up-and-bailed on me," Hudack says. "I wasn't going to just walk away because she did."
Hudack looked for someone to replace the manager but couldn't find anyone licensed. So she did it herself.
She knew she needed that manager's license — which requires, in addition to holding a current cosmetologist license, 2,000 hours of practical training at a salon and 150 hours of coursework, or 4,000 hours of practice as a licensed cosmetologist under the supervision of a licensed cosmetology manager. On top of that, she had to pass the cosmetology manager exam.
So Hudack got to work.
Complaints filed with state
In May 2016, she was working on the practical training — traveling to her niece's salon a half-hour away in Ashland to rack up the thousands of practical hours — when someone complained to the state (she's pretty sure who it was) that she was operating the salon without a manager's license.
That encounter with the Wisconsin Department of Safety and Professional Services was good, she says. They were "very, very nice," they were understanding and, she felt, both agreed that the situation was being resolved. She kept working on racking up enough hours — at her niece's salon and with coursework — to take the exam and get that manager's license.
Then one day, an investigator from the state agency showed up at the salon. He said he was responding to a complaint. Hudack believes another complaint was lodged by the same party who complained the first time. Records show a complaint was filed with the department in August 2016.
The inspector found two violations at the salon — pedicure instruments were not fully submerged in disinfecting liquid (Hudack notes that pedicures weren't being done at the salon that day), and hair clippers weren't properly contained in a steel case.
Each violation came with a $500 fine. That seemed high to her. (As a point of contrast, a fine for first-offense operating while intoxicated in Wisconsin tops out at $300.)
At any rate, Hudack paid the $1,000 in fines. She paid another $221.50 for the manager's license fee and had to drive 300 miles round trip to Eau Claire for the exam. So her go-round with the state cost nearly $1,500 — if you figure in time traveling to Ashland for practical hours and to Eau Claire for the test.
Racking up those practical hours was a hassle for Hudack, says her niece, Lynn Chingo, who runs the Ashland salon, One on One.
Hudack was working at her own salon and traveling 55 miles round trip to Ashland at least once a week to clock those hours. Chingo understands the need for practical training, especially for someone fresh out of beauty school. But thousands of hours for someone who has worked in salons before?
"I think they require way too many hours," Chingo says. "They make it very difficult to try to get hours in. You've just got to basically keep plugging along. I'd say it was pretty difficult for her."
Alicia Bork, public information officer for the Department of Safety and Professional Services, says the number of hours required for licenses are dictated by state statute, not determined by the department.
System frustrates another stylist
Then there's Shelly Geuze, the stylist whose clippers were found to be improperly stored, resulting in a $500 fine for Sky's the Limit. She had her own go-round with licensing.
Geuze was already licensed in Georgia and sought a license so that she could work in Wisconsin. She says she called Wisconsin's Cosmetology Examining Board, which regulates cosmetologists, aestheticians, electrologists and manicurists.
"I called the board to find out how to transfer my Georgia aesthetician license to Wisconsin. I was told I'd have to take the Wisconsin aesthetician boards — written and practical," Geuze says.
"The cost would be $325 by the time it was all done. I could take my written portion online, but I'd have to travel three hours away to Eau Claire, Wisconsin, to take the practical exam. I was beside myself.
"That's a chunk of change to come up with just so I can get my Wisconsin license," she adds.
Geuze says she later discovered that the information she was given was incorrect. Instead, because she was licensed in Georgia, she only needed to apply by endorsement, which costs $82 plus a $25 fee to have her license verified by the Georgia Board of Cosmetology.
"Which is also ridiculous because anyone can look on any board's website to verify a license to see if it's active and to also see if there are any legal problems with the license. So not only do I have to pay the board fee, I also have to pay $25 for a verification that can be done for free," she says.
"But what can I do? I have no choice but to do it their way, or they won't license me. It's just robbery. You spend thousands to go to school and then get nickeled and dimed trying to get ahead."
According to the Wisconsin Department of Safety and Professional Services website, if a person holds a cosmetologist or aesthetician license in another state and has completed at least 4,000 hours of licensed practice, he or she can apply for licensure by endorsement.
Bureaucracy and fees
Hudack understands the need for licensing for the sake of public health and safety. But she sees a system mired in bureaucracy and fees, making it hard for a small shop like hers to survive.
And some aspects of the system just don't make sense to her. For instance, she wonders why some medical professionals, such as emergency medical technicians, require far fewer hours of training. In Wisconsin, EMTs require 180 hours of training, while a cosmetologist needs 1,550 hours. EMTs are licensed by the state Department of Health Services.
"We're not playing with people's lives," Hudack says. "We're playing with people's hair."
She wonders why she had to travel to Eau Claire to take the licensing exam, but her daughter, a registered nurse, could do it online.
Overall, Hudack would like to see the state make it easier for people to run a business.
"It's like they just try to suck every penny out of you when you hold a state license," Hudack says.
"It's hard to keep a small business operating," she adds, and the licensing merry-go-round doesn't help. She says she's worked for two years without a paycheck.
"I work to keep the doors open," Hudack says. "You bust your ass seven days a week — just to keep the doors open."
Jan Uebelherr is a freelance editor and writer in Milwaukee. She was a Milwaukee Journal Sentinel reporter for more than 30 years.
Photo by Chad Johnstone.
Related stories:
►Long ordeal to get licensed in Wisconsin frustrates aspiring hair stylist
►Massage therapist finds continuing education requirements for licensing onerous