A look at the tradeoffs in crime and crashes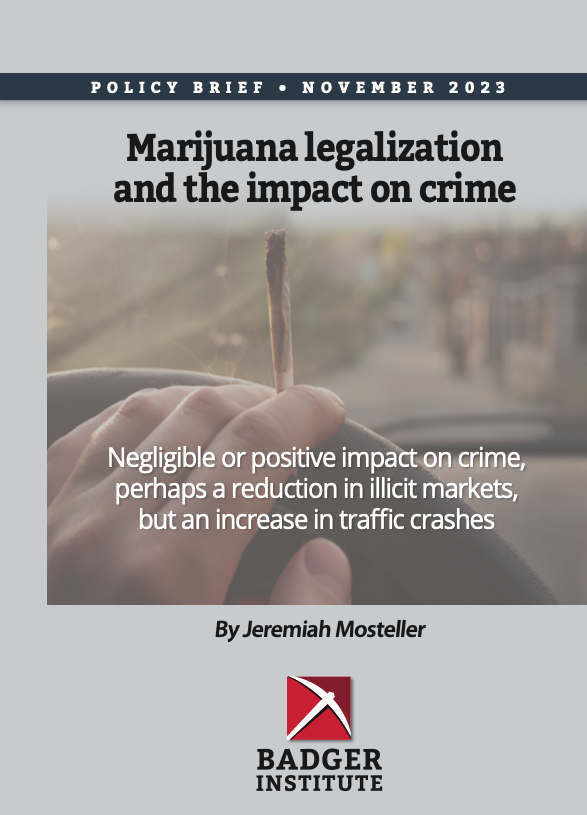 In an effort to help Wisconsinites better understand the facts about marijuana, we offer here a look at the evidence about public safety in states that have legalized the drug.
We aren't weighing in on whether Wisconsin should keep cannabis illegal, allow "medical use," or legalize adult recreational use, though we may do that at some future point. Rather, we are in this policy brief from legal scholar Jeremiah Mosteller simply looking at the tradeoffs that have become clear from the experience of other states.
What we found:
On property crime and violent crime, the weight of research shows that for both medical and adult use, legalization has either no impact or a beneficial impact on rates.
Early research suggests that full legalization will help reduce the size of the illicit market in cannabis, but those findings aren't conclusive.
Legalizing cannabis for adult recreational use, or simply decriminalizing it, will likely result in increased traffic crashes and deaths, but that doesn't seem to happen in places that allow only medical use.
The Badger Institute will publish additional policy briefs on the impact of marijuana legalization or decriminalization in the coming weeks.  
Submit a comment
"*" indicates required fields