'How often do ethics change in massage therapy?' she wonders
Third in a series of WPRI stories and research on the issue of professional licensing in Wisconsin.
What do you need to know to be a massage therapist? That, it seems, is a never-ending question.
For Sara Cerwin, it's a 24-month chase for training hours that begins all over again once she's met her state requirements for continuing education.
Cerwin, who has happily worked as a massage therapist since 2006, has never had a problem with her licensing. It's the continuing education that's been a speed bump in her career.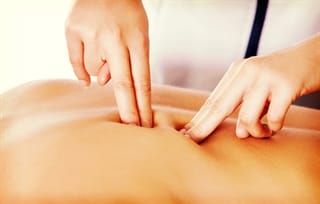 Cerwin works at the Knick Salon and Spa at 1028 E. Juneau Ave. in Milwaukee, and she got into the field because she was sure of a few things. She didn't think a conventional college degree was for her — the grind of academics that would lead to the grind of life in an office. At least that's how she saw it.
"I didn't want to be stuck in a cubicle for the rest of my life," she says.
"I wanted to have a skilled trade that I could do pretty much for the rest of my life. It wasn't for the money. It was more to help people. I like making people feel better."
Besides, she says, "I figured I've got to do something with my life."
Then a friend went to massage school. Cerwin liked that idea a lot, so she did, too.
She enrolled at Lakeside School of Massage Therapy in Brookfield, graduating in 2004 after nine months of study with a certificate as a massage therapist and a $7,000 student loan.
Though she'd work in a spa, she bought a massage table — just in case. That cost $800. She had to take a national test through the National Certification Board for Therapeutic Massage and Bodywork before being able to take the state test. That was $400. The state test cost $110.
When she learned that Lakeside was offering an associate's degree, she went back and got it, for another $8,000. "I wanted to be one of the first people in Wisconsin to have an associate's degree in massage therapy, and besides, I like Lakeside a lot," she says. "I thought, 'Yeah. I want to be a better massage therapist — just to better myself.' "
Costly in dollars and time
In the years since, Cerwin has never had a problem with her license. She's always had it, and there have been no complaints against her.
It's the continuing education requirements that bug her. They're costly in both dollars and time, an ever-present deadline.
The state requires massage therapists to put in 24 hours of continuing education every two years in order to renew their license, which carries a fee of $82.
Finding those classes means taking time off of work — that's often a weekend, the busiest time for Cerwin — and it means paying for the classes.
"Most classes are one day, all day — so six to eight hours. And that's three or four classes over the course of two years. Sometimes they're over the weekend," she says. "Usually they're in Chicago.
"And even if it's online, you still have to find the time. And then, are you really paying attention, if you're just trying to put in the hours?"
Cerwin likes learning new things. She went back to school to get that associate's degree, even though she didn't have to. Last year, she took a class on cranial sacral therapy, a type of massage that regulates the pulse of spinal fluid. That one was in Brookfield, and she paid $300 for it — and lost time (and money) at work.
"It's a lot of pressure to find something that you want to educate yourself on (for the continuing education requirement)," she says. "It's like waiting for a comet to come around."
She also has to keep up the national license with continuing education credit, but she usually can apply the state hours to the national.
As part of those 24 hours of continuing education, she's required to take two hours of ethics training.
"It's not once a month there's an ethics class. Those classes only pop up maybe once a quarter," she says. "It's difficult finding the ethics class you're supposed to take."
And she has to wonder, "How often do ethics change in massage therapy?"
CPR refresher training also is required, and it's separate from those 24 hours of continuing education. "That's $100 every two years," she says. The costs and the hours of the continuing education requirements add up.
Cerwin would like to see the state ease up on the hours required for renewing the license.
"I'm not saying we don't need to get some sort of continuing education, but it's like, man. It's a lot of pressure."
Jan Uebelherr is a freelance editor and writer in Milwaukee. She was a Milwaukee Journal Sentinel reporter for more than 30 years.
Related stories:
►Long ordeal to get licensed in Wisconsin frustrates aspiring hair stylist
►Salon owner says Wisconsin licensing hurdles make it tough for small businesses