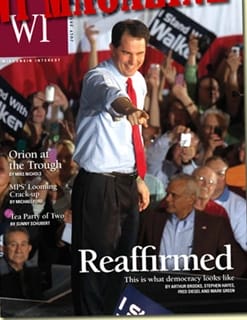 A watershed moment for Wisconsin
As Politico noted earlier this year, if there is any state that "epitomizes what the permanent campaign feels like," it is Wisconsin. For the past year, voters here have been dragged to the polls every 60 days. The recalls, recounts, rallies and petition drives seemed as endless as a Madison drum circle. On June 5, it all ended. Well, probably not.
But the decisive re-affirmation of Gov. Scott Walker's election was clearly a watershed. As Walter Russell Mead noted the day after, "The American left as we have come to know it suffered a devastating blow in Wisconsin last night … The left picked this fight, on the issue and in the place of its choosing … And it failed."
Despite the pickup of a seat in the state Senate that gives Democrats temporary (if meaningless) control of that body for a few months, Walker's victory (1) assures the survival of his reforms for the foreseeable future, (2) deals a substantive body blow to public employee unions, (3) ensures that Wisconsin will be a swing state in the November elections.
In this issue, we've asked a number of commentators to weigh in on the fallout from Walker's victory. Contributors include The Weekly Standard's Stephen Hayes, former Ambassador (and gubernatorial candidate) Mark Green, the American Enterprise Institute's Arthur C. Brooks and Fred Siegel from the Manhattan Institute's City Journal magazine.
They will have the final word on Badger State politics, at least until our next election. In August.
— Charles J. Sykes
Dispatches
by Charles J. Sykes
by Fred Siegel
Once a force for change, progressives now battle to preserve the past.
by Christian Schneider
by Ambassador Mark Green
The trend is clear: more money for retired teachers, less money for the classroom. What can be done?
by Mike Ford
From out of nowhere, Nancy Milholland and Lora Halberstadt emerged to spark the Tea Party in Wisconsin.
by Sunny Schubert
Candidates often reveal more about themselves than they'd like.
by Christian Schneider
Because Democrats draw support by passing out tax dollars, they don't have a clue what the limits of government should be.
by Richard Esenberg
by Stephen F. Hayes
Great hype and uncertain success mark the repeated public investments in a Manitowoc energy firm.
by Mike Nichols
by Arthur C. Brooks