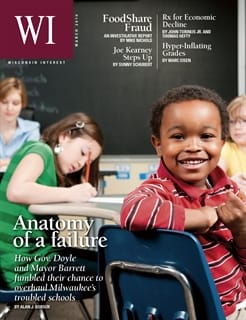 The takeover takedown
Even in a year of notable failures-from the stimulus to health care reform-the collapse of efforts to reform the Milwaukee Public Schools stands out as an epic flop. As veteran education reporter Alan J. Borsuk writes in our cover story, the stars seemingly were aligned for a mayoral takeover of the dysfunctional system.
"[Y]ou had the president of the United States, the secretary of education, the governor of Wisconsin and the mayor of Milwaukee-all Democrats-coming down firmly for what they wanted to see happen in the Democratic-controlled Wisconsin Legislature.
"And they didn't prevail."
The debate over the mayoral takeover, writes Borsuk, "could have been a real chance to discuss how to energize the deeply troubled MPS system. It could have been a catalyst for re-energizing the whole subject of improving education in Milwaukee.
"Instead, it became a plodding tour of why things don't change easily in Milwaukee…."
Also in this issue, Mike Nichols chronicles the dramatic expansion of FoodShare, the program formerly known as Food Stamps, with a marked indifference to evidence of growing fraud here in Wisconsin. (Sound familiar?)
In an equally compelling account of the triumph of ideology over common sense, Marc Eisen discusses rampant grade inflation at UW-Madison's School of Education, where all the kids aren't just above average, they are virtually all straight-A students.
John Torinus Jr. and Thomas Hefty revisit their earlier analysis of the state's limping economy with a series of prescriptions for creating jobs. Their list is far from exhaustive: I would certainly add tax cuts along with regulatory and legal reform, but that debate is just beginning, as Wisconsin begins to cope with the consequences of a decade's worth of bad policy decisions.
— Charles J. Sykes
Paul Ryan, unlike the president, acts like a grownup in facing the entitlement tsunami. By Richard Esenberg
Marquette Law School Dean Joseph Kearney has the school taking a bigger role in Milwaukee's policy debates. By Sunny Schubert
The foibles of progressive schooling prompt a search for a better alternative. By Warren Kozak
Students at the UW-Madison School of Education receive sky-high grades. How smart is that? By Marc Eisen
Poor strategy, muddled efforts, and strong opposition killed the Doyle-Barrett plan to overhaul Milwaukee's crisis-ridden schools. By Alan J. Borsuk
Dispatches: By Charles J. Sykes
The State's FoodShare program feeds 700,000 – and appears utterly unconcerned about cheaters. By Mike Nichols
Our Politicians Are Both Juvenile and Delinquent. By Christian Schneider
Eight steps to reinvigorate the ravaged Wisconsin economy after a decade of decline. By Thomas Hefty and John Torinus, Jr.