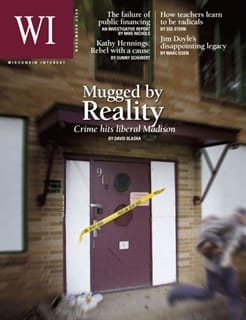 Whom do you trust?
"How much of the time," pollsters asked Wisconsin residents in September, "do you think you can trust the state government in Madison to do what is right?"
Here is a number to think about: Only 1.86% said "just about always." More than 68% of the respondents in the poll jointly conducted by the Wisconsin Policy Research Institute and the UW-Madison political science department said they could trust state government "only some of the time" or "never."
This suggests that the state's politicians from Gov. Jim Doyle on down have picked a rather inauspicious time to radically expand the size and scope of government. When voters opted for hope and change, they evidently were not thinking of more bureaucrats, regulations, mandates, and taxes.
The yawning disconnect between voters and their government may account in part for Doyle's death-bed conversion to term limits. Trailing clouds of miserable poll results, broken budgets, broken promises, and a deteriorating state economy, Doyle now heads into the taxpayer-funded political twilight.
As Marc Eisen points out, Doyle has been an effective and ruthless politician but a mediocre governor, who ultimately has been more interested in rewarding loyalists and punishing enemies than pursuing any coherent agenda. Eisen's piece, however, is not intended as a conservative critique: He points out that even liberals now view the Doyle legacy with disappointment.
Also in this issue: Alan Borsuk takes an in-depth look at the mysterious frontier of politics: the young voter; Mike Nichols provides an autopsy of the state's attempt at the public financing of campaigns; and last, but hardly least, is David Blaska's brilliant tragicomic send-up of the collision between Madison liberals and the harsh realities of urban crime.
— Charles J. Sykes
Once upon a time, public financing was going to clean up political campaigns in Wisconsin. Arguably, it made things worse. By Christian Schneider
By Christian Schneider
Dispatches: By Charles J. Sykes
Virtual schools, viewed skeptically by the educational establishment, have a champion in Kathy Hennings. By Sunny Schubert
Worried residents meet, take action – and face pushback from liberals. By David Blaska
It's no surprise that conservatives have a long list of Jim Doyle's failures. Now we find that even liberals shake their heads over the missed opportunities. By Marc Eisen
They look to MPS's Robert Peterson and his social justice political agenda. By Sol Stern
Pretty much what older people want, with a few key exceptions. By Alan J. Borsuk
Conservatives know that American genius flows from the bottom up rather than the top down. By Richard Esenberg