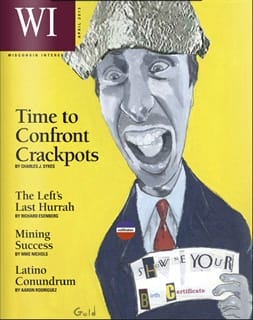 Smart can win
In the wake of November's election, national Republicans conducted an autopsylike review of their failures. As Wisconsin's own Reince Priebus noted, there was "no one reason we lost. Our message was weak; our ground game was insufficient; we weren't inclusive; we were behind in both data and digital; our primary and debate process needed improvement."
Other than that, Mrs. Lincoln, how was the play?
Our cover story suggests one place that conservatives might start: by acknowledging and confronting the problem of crackpots. As I write: "Smart can win. Weird almost always loses."
This edition also includes a detailed look by Aaron Rodriguez at the challenge conservatives face to win over Hispanic voters. Rick Esenberg looks back on April's victory for conservative Supreme Court Justice Patience Roggensack, while Christian Schneider, in explaining why the judiciary matters so much here in Wisconsin, examines how activist Dane County judges have upended the rules of lawmaking.
We also include a timely account by Mike Nichols of how Wisconsin's booming frac sand industry is lighting up the economy and may even help reduce global warming. As Nichols notes: "The emergence of an entire frac sand industry has been both astonishingly rapid and a testament to local decision-making."
And in spring, hope is always a good thing.
— Charles J. Sykes
An activist Dane County court has brashly upended the rules of lawmaking.
By Christian Schneider
Fringe causes are undermining conservatism's broad appeal.
By Charles J. Sykes
The GOP can't attract this seemingly natural constituency. What can be done?
By Aaron Rodriguez
Here's the early line on their chances in the 2016 presidential race. By Christian Schneider
Wisconsin's booming frac sand industry is lighting up the economy and may even help reduce global warming.
By Mike Nichols
Conservative hopes brighten with the new season. By Charles J. Sykes
Ed Fallone's failed Supreme Court challenge will mean continued conservative dominance. By Richard Esenberg
Wisconsin filmmaker Dan Hayes chronicled WWII vets and takes their life lessons to heart.
By Sunny Schubert