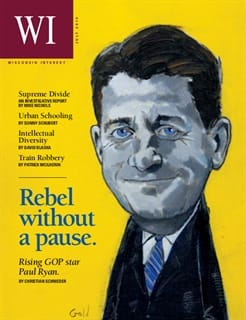 Hard choices
For a rising political star, Paul Ryan remains a remarkably lonely political figure. For years, under both Democrats and Republicans, he has warned about the need to avert a fiscal meltdown, but even though his detailed "Roadmap" for restraining government spending was widely praised, it was embraced by very few.
Despite lip-service praise from President Obama, Democrats have launched serial attacks against the plan, while GOP leaders have made themselves scarce, avoiding being yoked to the specificity of Ryan's hard choices.
But Ryan's warnings have taken on new urgency as Europe's debt crisis unfolds, and the U.S. debt creeps over $13 trillion on a trajectory to exceed the nation's total annual GDP.
Ryan is eager to disclaim any interest in the 2012 presidential ticket (at least the top spot), but in our cover story, Christian Schneider captures a frenetic 48 hours in the life of the nation's foremost celebrity wonk, asking: "What's so damn special about Paul Ryan?" More than his matinee-idol looks.
"Ryan is a throwback," writes Schneider, "he could easily have been a conservative politician in the era before cable news. He has risen to national stardom by taking the path least traveled by modern politicians: He knows a lot of stuff."
Also in this issue, Mike Nichols examines Wisconsin's dysfunctional, divided Supreme Court and the implications for law in the state. Patrick McIlheran deconstructs the state's signature boondoggle, the billion-dollar not-so-fast train from Milwaukee to somewhere in Madison. And finally, David Blaska casts his gimlet eye on UW's continuing battle over intellectual diversity and the fledgling efforts to "build up the tiny chorus" of conservative counter-voices to the university's liberal hegemony.
— Charles J. Sykes
Teach for America finds success in training nontraditional teachers like Tom Schalmo. By Sunny Schubert
Who cares if they grew up eating dirt sandwiches? By Christian Schneider
Dispatches: By Charles J. Sykes
Discord has split the state Supreme Court, damaging its productivity and its reputation for fairness. By Mike Nichols
Hold on to your wallet: The state's big federal grant is anything but free. By Patrick McIlheran
A researcher finds mixed but encouraging results. By Patrick Wolf
It isn't racial, but intellectual. The Havens Center's leftist tilt is a troublesome example. By David Blaska
Obama champions dialogue, but fails to listen. By Richard Esenberg
Our reporter spends 48 hectic hours with rising GOP star Paul Ryan. Just how far can his reform plans take him? By Christian Schneider