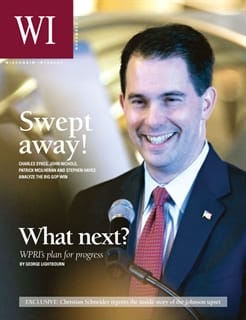 Now what?
In November, notes progressive pundit John Nichols, Wisconsin Democrats suffered "the worst defeat of any state party in the nation." Voters issued pink slips with abandon: This was the only state where Democrats lost the governorship, a Senate seat and both houses of the state Legislature. Not since 1938 have Republicans gained this many seats in the Assembly. And, as icing on the cake, the state GOP also captured two new seats in the U.S. House.
Wisconsin politics has been turned upside down. Before Nov. 2, Democrats controlled every lever of power in the Badger State. Next year, they will control none. Powerless and virtually irrelevant for the last two years, conservatives now hold the governorship and have strong majorities in both legislative houses.
The upheaval poses both an opportunity and a challenge. Unlike Washington there is no divided government in Wisconsin, and for conservatives, no excuses. They own it.
So welcome to Madison. Now what?
In our cover story, George Lightbourn (president of our publisher, the Wisconsin Policy Research Institute, and a former state secretary of administration) offers a memo "on how to restore Wisconsin's greatness." Drawing upon the institute's Refocus Wisconsin project, Lightbourn lays out a roadmap for Gov.-elect Scott Walker and the GOP majority.
Also in this issue: Christian Schneider provides an exclusive behind-the-scenes view of the extraordinary campaign that propelled Ron Johnson into the U.S. Senate; Mike Nichols looks at the political disconnect in Milwaukee over education; and a bevy of our finest columnists weigh the magnitude of Wisconsin's political earthquake.
— Charles J. Sykes
Rep. Mike Huebsch talks about the GOP's legislative agenda for change. By Mike Nichols
An embedded reporter tells the inside story of one of the great political upsets of 2010. By Christian Schneider
The left's response to the Tea Party was wrong from the start. By Richard Esenberg
A Plan to Restore Our State's Greatness. By George Lightbourn
Just saying "no" will serve Republicans well. By Patrick McIlheran
Stephanie Findley learned the hard way that while the public favors school reform, the political system is rigged to kill it. By Mike Nichols
Spare Me: Democrats may be inept, but Walker's another Julius Heil. By John Nichols
That's why political movements should be anchored in ideas. By Christian Schneider
Dispatches: By Charles J. Sykes
Our shocking election results put Wisconsin in the national spotlight again. By Stephen Hayes