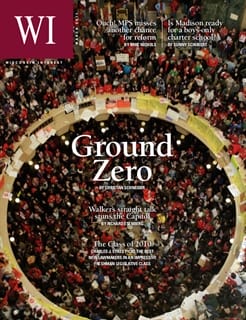 The revolution is now
These are tumultuous and consequential times in Wisconsin. The pace of change in Madison — and the blowback — has been historic, even as the national spotlight has turned on the Badger State.
The president's decision to come here the day after his State of the Union address underlined the obvious: Wisconsin is not only a bellwether state in presidential politics, it has become ground zero in the fight over reforming government (as well as the home of the Super Bowl Champions).
In this issue, we profile the new class of state legislators swept into office last November. They are an exceptionally talented and passionate group, and provide conservatives with their deepest bench in generations. They include business executives, certified public accountants and physicians.
"I wouldn't be surprised if there was a future U.S. senator or governor out of this class," says one observer.
Jeff Mayers, founder of Wispolitics.com, looks at the crucial roles that Midwestern states like Wisconsin and Ohio will play in the 2012 election. Christian Schneider, who has chronicled the remarkable ascendancies of Rep. Paul Ryan and Sen. Ron Johnson, discusses Wisconsin's war over collective bargaining. Dave Blaska looks at the left's ongoing tantrum over campaign finance reform and free speech.
And in contrasting pieces, Sunny Schubert and Mike Nichols look at the hopeful (and not so hopeful) prospects for meaningful educational reform: Schubert profiles a dynamic Madison-area educator, Kaleem Caire, while Nichols describes the futility of trying to fix Milwaukee's dysfunctional schools. Some things, unfortunately, do not change.
— Charles J. Sykes
The lessons from Indiana's playbook. By Christopher Ruhl
The Supreme Court's defense of corporate politicking has sparked a fierce backlash. By David Blaska
Kaleem Caire's high-intensity plan for Madison Prep charter school doesn't include the teachers' union. By Sunny Schubert
It's a shock for some: He means what he says, and he does what he promises. By Richard Esenberg
The 2012 GOP presidential crowd gets a makeover. By Christian Schneider
Dispatches: by Charles J. Sykes
Freshmen legislators are pumped and ready to rock. We pick 10 rising stars to watch. By Charles J. Sykes
MPS' failure to shut down a struggling charter school reveals the board's stubborn refusal to embrace reform. By Mike Nichols
The next election – and the fate of the Republican and Democratic agendas – will be determined in the Midwest. By Jeff Mayers
For good reason, the Capitol exploded when Gov. Walker struck at collective bargaining. By Christian Schneider